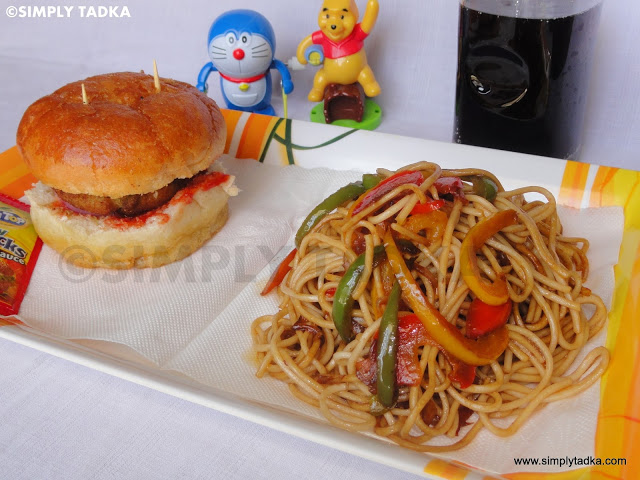 Last Updated on
Chow mein is very popular Chinese dish of stir
fried noodles with vegetables, available with many variations. This time I post
one of my favorite Indo-Chinese recipes i.e. "Vegetable Chow mein". It's a very
popular between adults and kids.
Chow mein is also common in Indian Chinese cuisine.
In India, It is usually offered Hakka or
with gravy. Catering to vegetarian diets, there is an Indian variant, vegetable
chow mein, which consists of noodles with cabbage, onion, pea pods, peppers,
and carrots and some sauces with soya sauce and vinegar. You can choose any combo
of vegetables or as per availability.
Preparation
Time: 20-30 Minutes
Cooking
Time: 15 Minutes
Serving: 3-4
People
Ingredients
1 Tbsp. Chili Oil
Salt to taste
1/2 Tsp. Ajinomoto
1/2 Tsp. Black pepper powder
1/2 Cup Bell pepper (red, green and yellow)
1/4 Cup Carrot
1/2 Cup Onion
1 Tsp. Soya sauce
1 Tsp. Vinegar
Direction
Heat the water in the pan on high flame, when water
is too hot. Add little salt and olive oil in it. Boil the noodles with
salt and few drops of olive oil in boiling water for 15-20 minutes. Now drain
the water and wash with cool water and toss with little extra oil.
Chop onion,
bell pepper and carrots in long strips form. Heat chili oil in pan on medium
flame and add onion, bell pepper and carrots. Cook for 3-4 minutes with little
salt. Add soya sauce, black pepper powder, ajinomoto and vinegar. Sauté for 2
minutes more. Add boil noodles and cook for 5 minutes and serve with tomato
sauce and green chili sauce.
Soul Food Show event and giveaway hosted by Vijaylakshmi
Enter your email address:
Delivered by FeedBurner