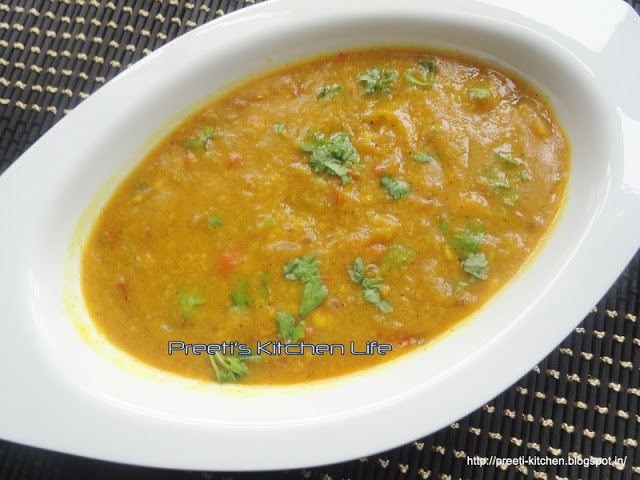 Last Updated on
Today I post "Vegetable Dhansak" which submitted to On-going Event "Blogging
Marathon# 20" under the theme of "Delicious Dal" hosted by Srivalli.
When I get this theme "Delicious Dal" suddenly Dhansaak come in my
mind but according to Parsi Cuisine,
Dhansak is a popular Indian dish,
especially popular among the Parsi Zoroastrian community. It
combines elements of Persian and Gujarati cuisine. In Parsi
homes, dhansak is traditionally made on Sundays owing to the long
preparation time.
Dhansak consists of lentils, vegetables, spices, cumin
seeds, ginger, and garlic together with meat and either gourd or pumpkin.
Within the Parsi community, dhansak usually contains goat meat (mutton);
it is rarely made with other meats, or without meat.
Outside of India, some variants of
dhansak use pineapple chunks for sweetness, however the traditional recipes
never contain fruit, instead favouring the subtle sweetness of gourd, pumpkin
or squash. But as per I consider Vegetarian Food only that's why I use pumkins
and gourd with some lentils.
I get this version from Masterchef
Sanjeev Kapoor's cookbook "Cooking with Love" which passes me as a Giveaway from
Vaishali on her Blog anniversary.
You can serve this wonderful Parisian
Vegetarian Cuisine with Steam rice or Wholegrain wheat flour chapatti. It'
taste really awesome, a complete meal include lentils and vegetable with
special
dhansak masala
. We all already knows lentils are the good source of
proteins and iron which is very beneficial for human body and Nutritionist also
suggests 1 cup dal in our daily balanced diet.
Preparation Time: 35 Minutes
Cooking Time: 30 Minutes
Serving: For 3 Persons
Recipe Source: MasterChef Sanjeev Kapoor's Cookbook "Cooking with
Love"


Ingredients:
1/8 Cup Split Pigeon Peas/ Tuvar Dal
1Tbsp. Split Red Lentils/ Masoor Dal
1Tbsp. Yellow split Gram/ Dhuli Moong Dal
1Tbsp. Split Bengal Gram/ Chana Dal
1/2 Cup Chopped Red Pumpkin/ Sitaphal
1/2 Cup Chopped Bottle Gourd/ Lauki
1 Medium Sized Onion, Chopped
1 Medium Sized Tomato, Chopped
1/2 Inch Rough and Fine Chopped Ginger/ Adrak
1 Chopped Green Chili
1 Tbsp. Lemon Juice
1Tbsp. Fresh and Chopped Green Coriander
1/4 Tsp. Turmeric Powder/ Haldi
Salt to Taste
1/2 Tsp. Cumin Seeds/ Shahi Jeera
1 Tbsp. Clarifying Butter/ Desi Ghee
Red Chili Powder to Taste
Direction:
Wash and soak the all four lentils into water for 15 minutes. Drain
the excess water and add all lentils with 3 cup water, pumpkin, gourd, turmeric
powder, and green chilli, salt and chopped ginger, cook in pressure cooker
until to 5 whistles. Remove from the flame and whisk well till to smooth and
fine dal with the help of one blend or whisker.
Now heat the ghee in to Wok on medium flame and add cumin seeds in
it. When they splutter add onion and sauté till golden. Add tomatoes and sauté till
to cook. Add
dhansak masala
, chilli powder if need and mix well.
Now add smooth dal and salt. Boil for 5-10 minutes more on low
flame. Remove the dal from the flame and add lemon juice and coriander for
garnishing. Serve this hot Vegetable Dhansak with Rice or Chapati's.
Pictorial Directions:



Lentils and Veggies
Boiled and Smooth Blended Dal mixture
Saute Onion
Tomatoes and Dhansak Masala
Submit this recipe
with following events:
CWS Event
WTML EVENT
Blogging Marathon page for the other Blogging Marathoners doing BM#20