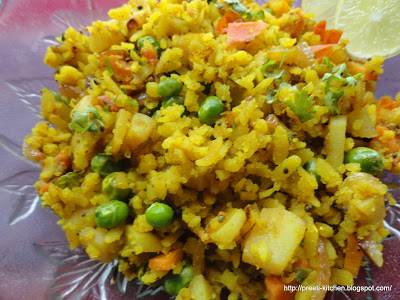 Last Updated on
Poha is something that we cook one or twice times
in breakfast within week. It's a very healthy, nutritious meal for breakfast.
In a Central India or Madhya Pradesh, Maharashtra……They call Pohe. Today I prepared
Poha with lots of veggie with different colors….hot and steaming poha…….look so
Yumm and colourful in bowl. One of mine friend wants the Poha recipe in the
blog……. So this recipe is dedicated to him.
Now for those who are not familiar with Poha, its nothing but flattened rice. It absorbs water
very well and very quickly and so is a great option for something quick. You
can find it in two varieties- Thick poha and thin poha. Poha is very famous and healthy meal which
generally cooked in every kitchen….so you can easily find various variations in
it from one culture to another.
Ingredients
3 cup Poha
1 small sized potato (peeled and chopped)
1 medium sized onion (peeled and chopped)
¼ cup peas
¼ cup carrot (peeled and chopped)
1 medium sized tomato (fine chopped)
2 green chillies (fine chopped)
1 tbsp. fresh green coriander (chopped)
½ lemon juice (halves)
1 tsp. sugar
½ tsp. mustard seed (rai)
½ tsp. mustard seed (sarso)
1 tbsp. oil
Salt to taste
2 tsp. coriander powder
½ tsp. turmeric powder
½ tsp. amchoor (raw mango powder)
¼ tsp. red chilli powder
Directions
Wash the poha nicely and strain out all the water and keep aside.
Heat the oil in a wok or kadai. Add mustard seeds (rai and sarso). When
they start to splutter add onions and green chillies. Boil the all three
veggies i.e. chopped carrots, potatoes and green peas in microwave for just 3-4
minutes. Drain excess water and add in to kadai sauté for 10 minutes. Add chopped
tomatoes and sauté for 5 minutes more, when veggies look soft and cooked.
Add all spices (garam masala, turmeric powder, coriander powder,
red chili and amchoor) except salt. Add poha and salt. Mix well.
Add sugar, lemon juice and garnish with coriander leaves. Serve hot
with green sauce or extra lemon wedges.
Submit this recipe with following events: