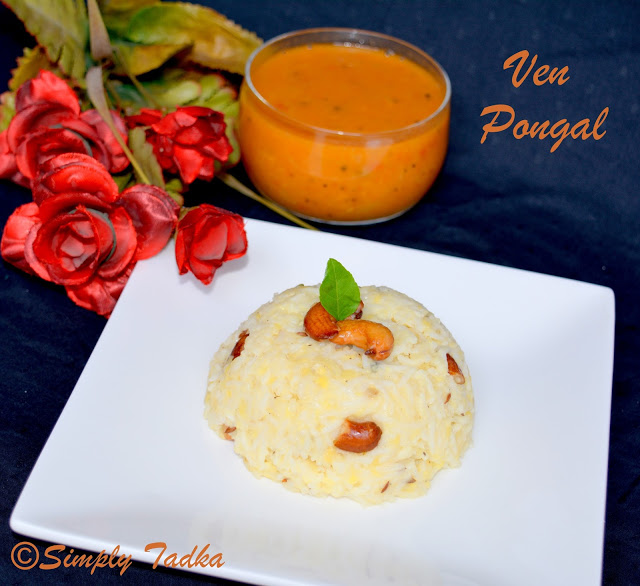 Last Updated on
Pongal is a popular rice dish in Tamil Nadu,
pong or pongu means to over boil or spill over. Ven pongal is a very simple and
comfortable food which you can make for breakfast meal. There are so many
variations available in pongal, this time I tried ghee pongal or khara pongal.
You can serve this recipe with chutney or
sambhar, both will be great side dish. But personally I prefer sambhar with
pongal.
There are two varities of pongal are available
sweet and savory, ven pongal is made from clarified butter, rice and yellow
dal. In Tamil Nadu, it's a common breakfast food.
Ven Pongal Recipe
Preparation
Time: 5 Minutes
Cooking
Time: 20 Minutes
Servings: 4
Category:
Breakfast
Cuisine: South Indian Cuisine
Ingredients:
2 Cups Raw Rice
1/2 Cup Yellow Split Lentil/ Dhuli Moong Dal
7 Cups Water
Salt to Taste
1/2 Tsp. Asafoetida
1 Tbsp. Ginger, Chopped
For
Tempering
2 Tbsps. Clarified Butter/ Desi Ghee
10 Cashews
2 Tsps. Jeera
7-8 Peppercorns
Few Curry leaves
Instructions
Wash and soak the rice and dal together for
15 Minutes. Heat the ghee in cooker, add asafoetida and ginger and fry them for
few seconds. Add water, rice, dal and salt and mix it. Cover the cooker with
lid and cook till to 4-5 whistles on medium flame.
Heat the ghee in tadka pan, add tempering
ingredients. When they start splutter, mix this tadka in the pongal and mix
well. Serve it with hot sambhar or chutney.
Notes: if pongal is dry then add some milk or water
more to bring it smooth consistency.
For better tadka, first fry the cashews and
then add other ingredients. If you don't like peppercorns then you can use
pepper powder.
Tags:
How to make ven pongal, ven pongal recipes, tamil cuisine, south indian
cuisine, indian cuisine, breakfast recipes, simply tadka, rice recipes, khara
pongal recipe, ven pongal recipe, blogging marathon, simple indian recipe,
quick recipes, healthy recipe, ghee pongal.
Check out the Blogging Marathon page for the other Blogging Marathoners doing BM# 56
Enter your email address:
Delivered by FeedBurner