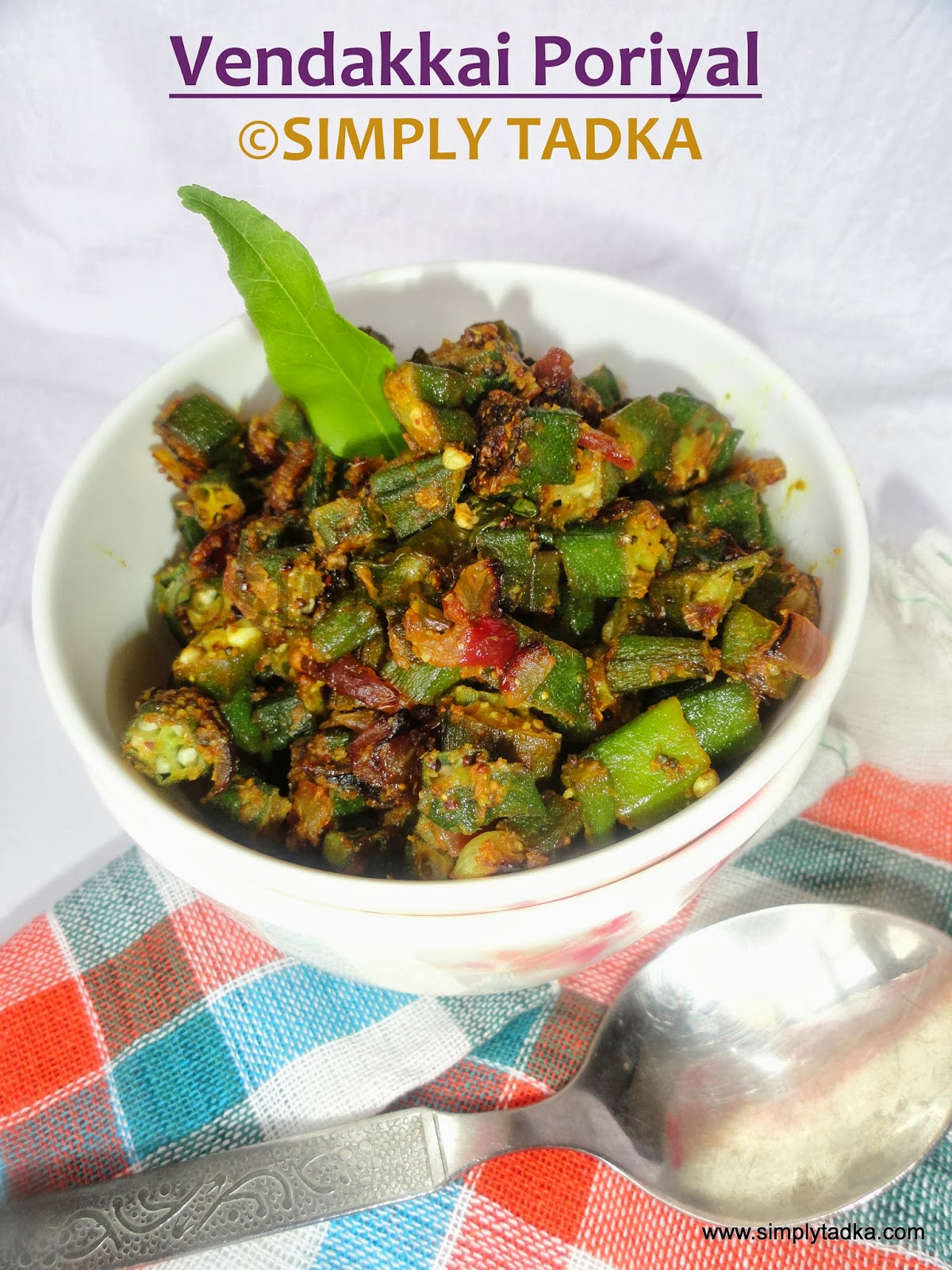 Last Updated on
Now
time to share one more recipe under regional category, i.e. Vendakkai Poriyal
which starts with letter V. Vendakkai is known as Okra or lady's finger in
English and bhindi in Hindi. For this recipe, you have to stir fry the bhindi
with onion and give the tempering of mustard seeds, curry leaves and urad dal. Okra is a popular health food due to its high fiber, vitamin C, and folate content. Okra is also known for being
high in antioxidants. Okra is
also a good source of calcium and potassium. 
Preparation
Time: 15 Minutes
Cooking
Time: 20 Minutes
Servings:
2
Category:
Veg Stir fry
Ingredients:
2 Cup Ladyfinger/ Okra, Chopped
1 Large Onion, Chopped
1 Green Chili, Chopped
1 Tsp. Ginger Paste
1 Lemon Juice
Salt to Taste
1/2 Tsp. Red Chili Powder (as taste)
1/2 Tsp. Turmeric Powder
1 Tsp. Sambhar powder
2 Tsp. Coriander Powder
For Tempering
2 Tbsp. Vegetable Oil
1 Tsp. Mustard Seeds
Pinch of Asafoetida
5-6 Curry Leaves
1/2 Tsp. Urad Dal
Instructions:
Wash and chop the ladyfinger into small
pieces.
Heat the oil in pan and add tempering
ingredients, when they start splutter.
Add onion, green chili and ginger paste
and saute till to translucent.
Add chopped okra, sambhar masala,
coriander powder, red chili, turmeric and salt.
Mix well and cook till to okra become
soft.
Add lemon juice, which increase the
flavor of dish.
Serve hot vendakkai poriyal or okra
poriyal with chapatti.
Enter your email address:
Delivered by FeedBurner