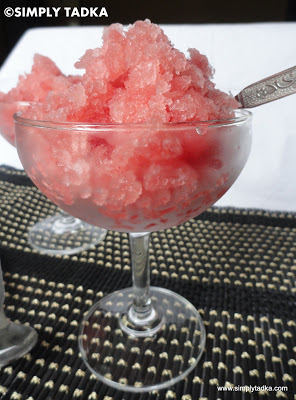 Last Updated on
Granita is semi frozen candy in ice form
dessert which prepare by sugar, lemon juice, and some flavors. For this recipe,
I use watermelon juice as a flavor. Now a days it's so hot here…. for this,
granita or ice candy is perfect treat for summer. To make this, you have to do
just two simple step; first prepare fruity flavors and freeze it and secondly scrap
the mixture and again freeze it. This time I prefer to use seasonal fruit
watermelon. The color is really shiny and glossy like crystals.
When we were in school, after the School bell candywala's comes with lots of colorful ice candies … Me and my friends both always eat those pipe-candy. I always brought in the red and Coco Cola flavor, both were my favorite.
Source: Google.com
Chilling Time:
4-8 Hours
Servings: 4
people
Ingredients
5 Cup Watermelon, peel and chopped
1 Tsp. Salt
2/3 Cup Sugar
1/2 Cup Water
1Tbsp. Lemon juice
Direction
Blend the watermelon pieces into blender and
strain the watermelon juice into another bowl.
Heat the sugar and water together and cook
till to dissolve. Keep aside to cool.
Mix well sugar syrup, lemon juice and
watermelon juice into bowl.
Place the bowl into freezer until to become
ice form.
Now take spoon and scrap the ice into crushed
form.
Again transfer this into freeze till to serve.
Serve this scrap ice into glasses as
watermelon iced candy or watermelon granita
Enter your email address:
Delivered by FeedBurner