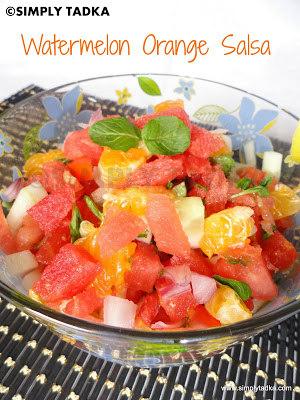 Last Updated on
I already post two very common salsas recipes in Simply Tadka that are
Tomato salsa
and
Onion-chili salsas
both are tangy and spicy in taste. But this time I prepared salsa with seasonal
fruits. Combination of watermelon and orange both seasonal fruits, called "Watermelon Orange Salsa". Its really awesome in
taste and good option for upcoming summer season to serve with khakra, nachos
or chips.
Under this recipe, we combine watermelon, orange chunks, cucumber, onion and tomatoes with sugar and salt seasoning. This recipe is perfectly fit to seasonal recipe theme in blogging marathon.
Cooking
Time: 0 Minutes
Servings: 4
Persons
Ingredients
3 Cup Chopped Watermelon, Seedless
1/2 Cup Orange Chunks, Peel & Seedless
1/2 Medium Chopped Red Onion
1 Cup Chopped Tomatoes
1/2 Cup Chopped Cucumber
2 Tsp. Chopped Green Chilies
2 Tbsp. Chopped Mint
2 Tbsp. Sugar
1/4 Cup Fresh Orange Juice
1 Tsp. Lemon juice
Direction
Whisk sugar into lemon and orange juice till
to dissolve.
Peel, seedless and chop the watermelon into
small pieces. Chop the tomatoes, red onion, green chili, cucumber into fine
pieces. Peel the orange chunks into small pieces.
Combine all the ingredients together into one
large bowl. Toss twice or thrice times. Sprinkle little salt and pepper for
seasoning. Serve chilled with nachos or chips.
Enter your email address:
Delivered by FeedBurner