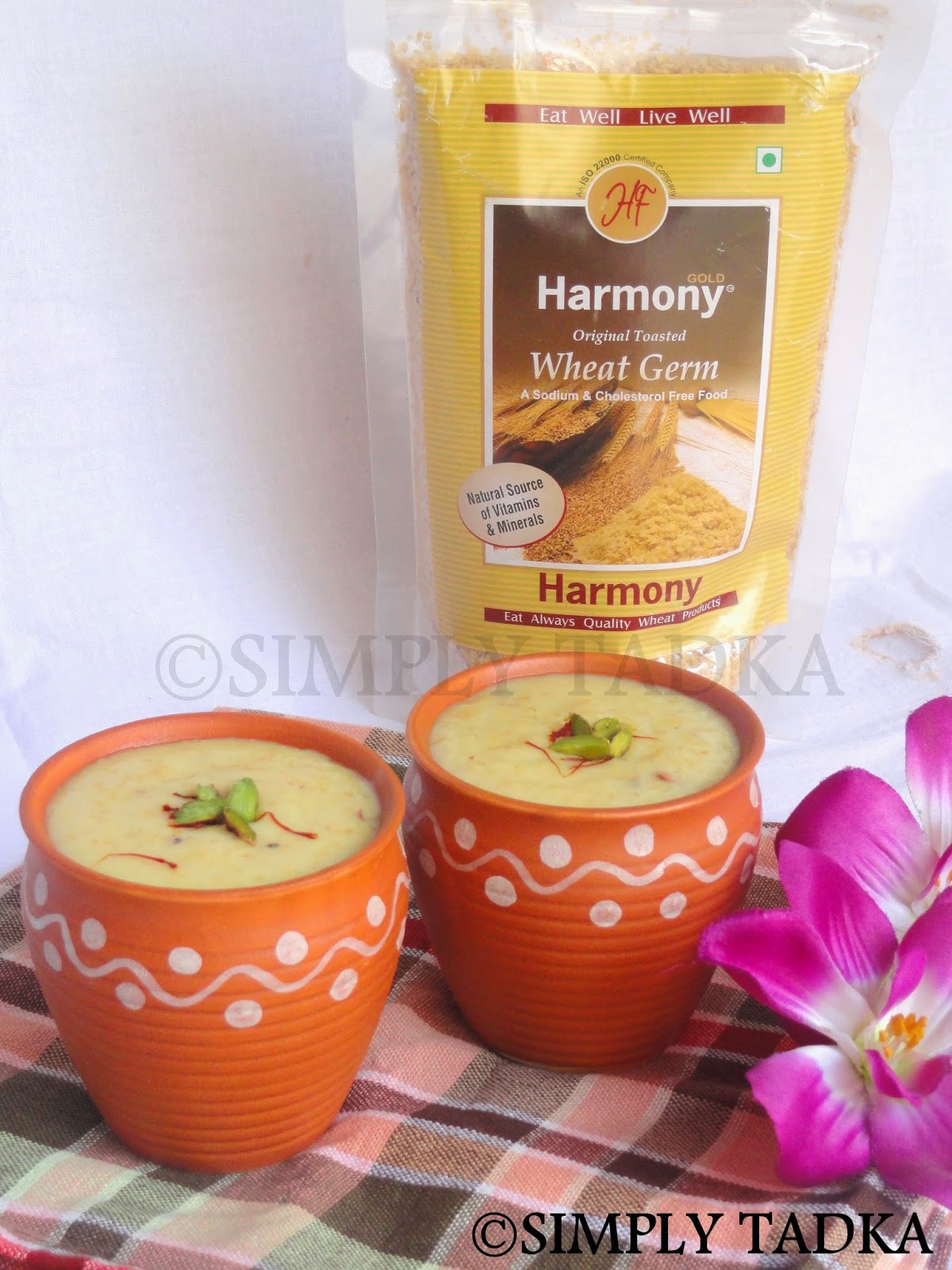 Last Updated on
Few Days back, I got a mail through Ritu who
shared two packs of Harmony original toasted wheat germ, each of 250 grams with
me. Today I shared some nutrition value of wheat germ and one recipe delicious
traditional Indian Dessert "Kheer" with my readers.  The term Germ in wheat germ often gives an
impression of bacteria but here germ stands for germination. Wheat germ in
hindi will be गेहूँ का अंकुर.
Wheat germ is the part of wheat that sprouts
and grows into a new plant. Wheat germ is a nutritious super food, rich in
vitamins, minerals, protein enzymes, and much more that the body needs to grow
and stay healthy. Wheat germ has more nutrients per gram than any other
vegetable or grain. Wheat germ contains complex carbohydrates, protein, fibre,
omega-3 fatty acids, vitamin E & A, B9, B1, Biotin, Calcium, iron,
magnesium, zinc, phosphorus, and potassium. Wheat germ is a delicious and easy
way to add the nutrients to the foods you love.  These days' wheat germ easily available in
supermarkets and the cost of 500 grams pack is 200 INR only; even you can shop
through website also. For more detail you can visit the website:
http://wheatgerm.in/
 or 
http://www.harmonyfoods.in/
How to use
Wheat Germ:
You can sprinkle the wheat germ on fruits or
salad.
Stir it into your oats and cornflakes.
Blend it with shakes and smoothies.
Add it into curd and yogurt.  Mix with wheat dough to make nutritious
chapattis.
Add to baked foods like bread, cookies and
muffins and cakes.
Preparation
Time: 10 Minutes
Cooking
Time: 10 Minutes
Servings: 4
Category:
Dessert
Ingredients:
3 1/2 Cup Full Cream Milk
2 Tbsp. Vanilla Flavoured Custard Powder
2/3 Cup Harmony Toasted Wheat Germ
1/2 Cup Sugar or as per taste
1/4 Cup Chopped Nuts (Pistachios, Cashews, and
Almonds)
3-4 Cardamom Pods
Pinch of Saffron strands
Instructions:
Mix the custard powder with ½ Cup of cold
milk and keep aside.
Boil 3 Cups of milk in deep bottom pan. When milk
starts boiling, add custard powder and mix mixture into pan and stir continuously.
Add chopped nuts, cardamom powder and wheat
germ and mix well. Cook for 5 minutes until to combine everything.
Add sugar as per taste and saffron strands
and mix well. Remove from the flame and serve hot or chilled.
Tags: Wheat Germ, Wheat Germ Recipes, Kheer recipes, payasam recipes,
sweet dishes, indian dessert, indian kheer, wheat germ kheer, wheat germ
payasam, healthy recipes, wheat grain recipes, review, product review.
Enter your email address:
Delivered by FeedBurner