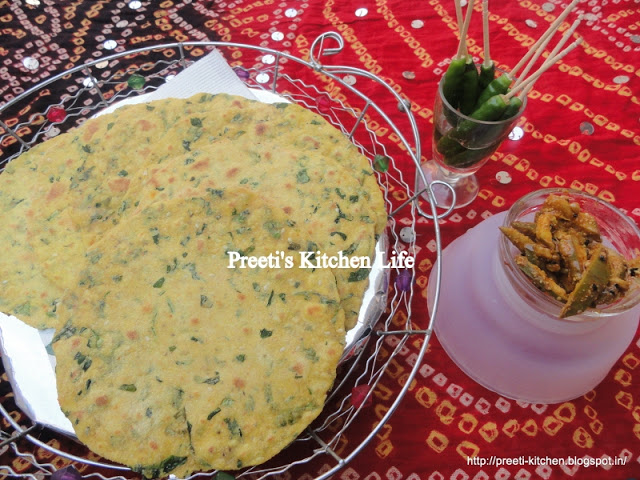 Last Updated on
As per ICC,
Indian Cooking Challenge
hosted by
Srivalli
, choose
very famous snack Khakra from Guajarati Cuisine which suggest by
Vaishali
. Khakra
is like spicy and crisp, very thin paratha which can be store in airtight jar
for long duration. This time we prepare khakra with wheat flour and with some flavour
of fenugreek leaves and spices. Wheat flour is great source of complex carbohydrates,
fibre and vitamins. Khakhra is made in several varieties such methi, jeera, bajri, math and masala flavors
to name a few. Khakhra is usually eaten with chutney, pickles, butter, ghee or
yoghurt. khakhra available in many flavours like jeera khakhra, masala khakhra,
methi khakhra, pani puri khakhra, Pav Bhaji Khakhra etc.
Preparation time: 10
Minutes
Cooking time: 5 minutes for each piece
Servings: 6 pieces
Ingredients:
1 Cup Wheat Flour
1/3 Cup Fresh Fenugreek Leaves, Chopped
Salt to Taste
1/2 Tsp. Sesame Seeds
1 Tsp. Clarifying Butter
1/4 Tsp. Turmeric Powder (pinchful)
1/4 Tsp. Red Chili Powder (as per taste)
1/2 Tsp. Carom Seeds/ Ajwain
Extra Clarifying Butter for Fry
Pictorial:
Combine ingredients together
Mix well all Ingredients
Make stiff Dough
Divide the dough into equal portions
Roll it in very tin form
Cook From both side on griddle
Spread little ghee
Cook Again and press with clothe
Khakra ready
Directions:
Combine all ingredients together in one bowl and add enough water
for stiff dough.
Now divide the dough into equal 6-7 Portions.
Roll out each portion with the help of rolling pin into round form
with little flour, it should be paper thin.
Heat the griddle or tawa on medium flame and cook each piece from
the both side.
Apply little clarifying butter or ghee on both side of each portion
and cook again on low flame until crisp by using a little pressure with clothe
as shown in pictorial.
Now methi khakra is ready to serve with tea as a snack.
Submit this recipe
with following events: