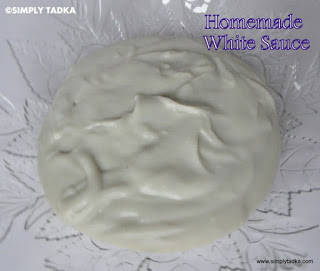 Last Updated on
This time blogging marathon announced basic recipes theme which are the very important for any kind of meal. So for
this theme I choose three basic liquid recipes, one is post yesterday that is
Homemade Chili Oil, and today I post White sauce.
White sauce, also known as Béchamel, is
used in a variety of dishes and is the base for many sauces. Here are the steps
for a basic medium white sauce, with adjustments for other thicknesses. This sauce
is used for making white pasta or noodles as Italian Cuisines. It's very easy to make white sauce at home
with flour and milk, thick consistency is called white sauce.
Preparation time: 2 minutes
Cooking time: 10 minutes
Servings: 1 cup
Ingredients
2 Tbsp. Refined flour/ Maida
1 cup Milk
2 Tbsp. Butter
1 tsp. Salt
1 Tsp. Sugar
White pepper powder for seasoning
Pictorial
Direction
Heat the butter in pan and add flour. Cook
till to butter and flour blend well for 5-7 minutes. Add salt and again sauté for
one minute extra. Add milk and stir continuously till thick consistency or
whisk. Add sugar and pepper as seasoning. Remove from the fire and cool it till
to room temperature.
Submit this recipe with following events
Enter your email address:
Delivered by FeedBurner