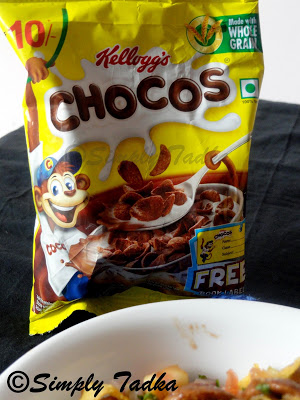 Last Updated on
A mom wants to give healthy tasty food to
kids which fit with mood. If the kids are happy then the parents will be happy
automatically. From the childhood to adulthood, lots of ups and downs comes in
life, everyone is changed and one thing which never change is "parental love". I
believed, conversation between parent and child should be interactive not
instructive. Today kids know a lot. To maintain better relation with them we
have to do friendship and accept their feeling and opinion in positive manner
through which we can develop strong bond and creates beautiful memories.
Chocos gives a chance to celebrate this
moments "Khushi ke Pal" between parents and child, you can say khatti meethi
yaadein bachpan ki. Everyone talk about women empowerment or weaker section
empowerment but nobody talks about kid's empowerment. Where kids need an own
space or world of thinking and doing whatever they like which help to learn
more creatively and fearlessly. I have strong
bond with my mom and dad. We shared great moments together.
To deal with kids, it's
not an easy task for every parent especially with 21 century kids. No school
can teach you about how to deal with child to understand better. This relation
is like a tree which grows with time and bonding, just need to give proper feed
and water on exact time. Don't be over protective or under care with the
child's feeling, both can be harming your relationship.
Verbal and physical
expressions of love and care make kids believe that parents are always with
them. Tell them every day that you love them unconditionally. The knowledge
that parents remain with them throughout the life will help them grow more
confident and smarter.
After a long discussion
on parents and child relationship, time to eat something…. As I'm food blogger…
isliye recipe toh banti hai…
As a foodaholic, love to eat panipuri,
aloo tikki, chocolates and specially cornflakes. Whenever I feel hungry and not
in mood to cook, just follow two simple steps. Buy a big pack of Kellogg's Chocos
and eat it as a time pass snack with favorite TV show, mine is "Shinchan" on
Hungama. These tiny bites are so crunchy and chocolaty…. crunchy texture and
chocolate flavor, both makes me vibrant and keeps busy in own kid's world.
You can tried more variations with
cornflakes and chocos which I loved more. Some variations which I want to share
from my childhood memories with all of you, hope you like it.
Cornflakes and
Chocos Bhel with Cocoas Mango Smoothie
Preparation
Time: 15 Minutes
Cooking
Time: 0 Minutes
Servings:
2
Ingredients
For
Bhel
Kellogg's Chocos
Kellogg's Cornflakes
Onion, chopped
Tomato, chopped
Green Coriander, chopped
Green Chili, chopped
Lemon Juice
Chaat Masala
For
Smoothie
1/2 Cup Kellogg's Chocos
1/2 Cup Mango, Peeled and Chopped
2 Cup Milk
Brown Sugar, optional
Instructions
Chop the onion, tomatoes, chilies and
coriander and add in large bowl. Add chocos and cornflakes with lemon juice and
chaat masala and mix it gently and serve immediately.
Combine Kellogg's chocos, mango chunks,
milk and sugar together and blend it till to smooth and thick consistency and
serve chilled in glass.
Notes:
For more variation you can add boiled potatoes, cucumber,
murmure and chutney in chaat. You can add any seasonal fruit like strawberry,
banana or berries whatever you like in smoothie.
Crunchy Chocolate Bites for this recipe Click here
Our childhood memories will never end or
faint… They will shine more like a star throughout the life.
Tags: Kellogg's Chocos, Kellogg's recipes, Kellogg's Cornflakes, Cornflakes recipes, Chocos Recipes, simplytadka, khuljaye bachpan, smoothie recipes, mango recipes, milk, bhelpuri, chaat, beverages, snacks.
Enter your email address:
Delivered by FeedBurner