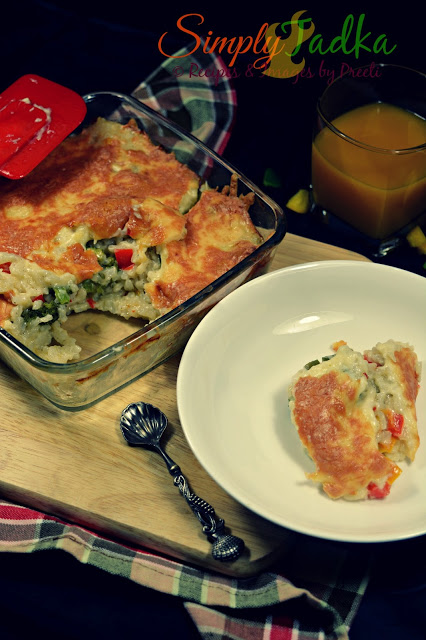 Last Updated on
Vegetable risotto
is a very simple and tasty dish which made with Arborio rice and exotic
vegetables baked in oven with white sauce and cheese. Love the color and cheesy
taste which makes me hungry anytime with glass of juice or any fabulous chilled
drink. You can serve this baked risotto recipe with garlic toast as main course.
Arborio rice is a
short-grain rice named after its origin town of Arborio, Italy. It's most
commonly used for risotto, but you can also prepare it as plain table rice
or use it for other dishes like rice pudding.
Baked Vegetable Risotto | Italian
Cuisine
Preparation Time: 15 Minutes
Cooking Time: 30 Minutes
Servings: 4
Category: Main Dish
Cuisine: Italian
Cooking Method: Baking, Stir-fry
Ingredients
2 Cups Arborio
Rice, Cooked
1/4 Cup Onion,
Chopped
1/2 Cup Tricolored
Bell Pepper, Chopped
2 Tbsps. Corn
1/4 Cup Broccoli Florets,
Blanched
1 Cup Processed
Cheese, Grated
1 1/2 Cups Milk
1/4 Cup Cream
Salt to Taste
Pepper Powder to
Taste
Chili Flakes to
taste
1 Tsp. Oregano
2 Tbsps. Butter
1 Tbsp. Olive Oil
3 Cups Water
Instructions
Boil the 3 cups of
water in heavy bottom pa on medium flame.
Add 1 Tbsp. Oil and 1 Tsp. Salt. Add Arborio
rice into the boiling water.
Cover the pan and
cook on low flame till to water absorbs. 
Remove from the heat and keep aside.
Combine milk,
cream, cheese, salt, pepper, oregano, chili flakes together and stir gently.
Heat the butter in
a non-stick pan, add onion and sauté till to translucent.
Add chopped bell
pepper, corn and broccoli and sauté till to tender or soft. 
Add milk and cheese
mixture and stir continuously to avoid lumps. 
Add cooked rice and mix it
completely, cooked on medium flame for 4-5 minutes. 
Grease the little butter in
a baking dish. 
Pour the mixture evenly and sprinkle cheese on the top of dish
evenly.
Bake in preheated
oven at 200 degree cel. for 15 minutes.
Serve hot vegetable
risotto with garlic toast.
Notes: Avoid stirring while cooking rice
otherwise you did not get creamy texture.
You can use vegetable broth also instead of water.
Tags: how to make risotto, Arborio rice,
rice recipe, Italian recipe, baked, vegetables, vegetarian, main dish, healthy
recipe, international recipe, risotto recipe, vegetable risotto, one pot
recipe, white sauce recipe, cheese recipe, simplytadka, blogging marathon,
protein rich recipe.
Did you make this recipe?
If yes, do let us
know how it turned out in the comments below.
Do share a picture
with us simplytadka@gmail.com  or share on Instagram with hashtag
#simplytadkarecipes and tag us @simplytadka
 Check out the Blogging Marathon page for the other Blogging Marathoners doing BM# 80
Enter your email address:
Delivered by FeedBurner