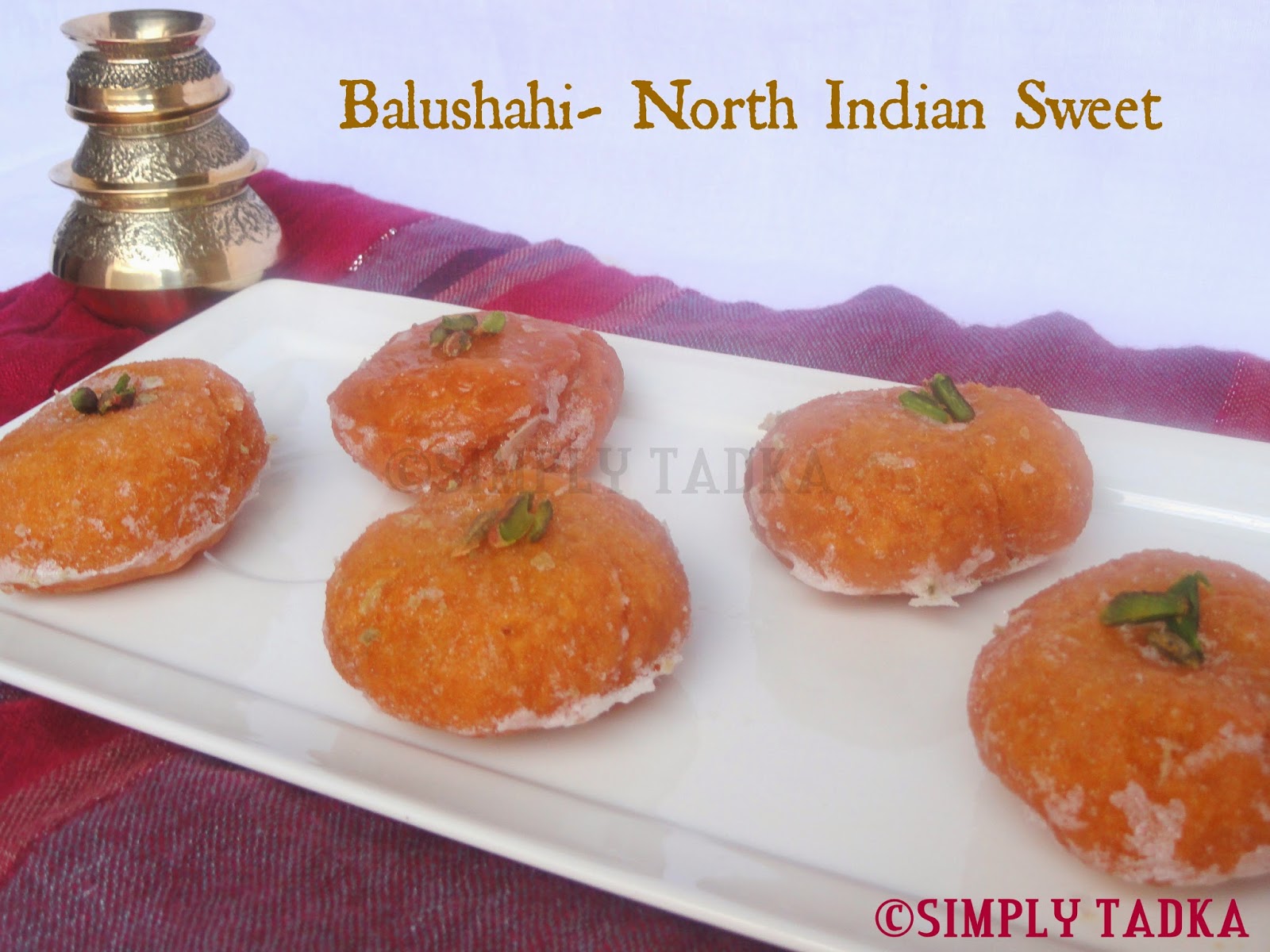 Last Updated on
Balushahi is a traditional mithai which very
popular in India, Pakistan, Nepal and Bangladesh. It is similar to a glazed
doughnut in term of ingredients but difference in texture and taste. In South
India, is known as Badushah.
Balushahis are deep fried pasty made of maida
flour, curd and butter and dipped in sugar syrup. This month Sweet Fantasy Club
choose Balushahi for SFC Feb'15 under Indian Mithai category. It's a perfect dessert or mithai for Indian
festivals like Holi, Diwali and more.
Cooking
Time: 30 Minutes
Servings: 10
Pieces
Category:
Indian Sweets
Ingredients:
For
Balushahi
250gm Maida/ APF
1/4 Tsp. Baking Powder
Pinch of Baking Soda
50gm Desi Ghee
100gm Curd
Oil or Ghee for deep frying
For Sugar
Syrup
2 Cup Sugar
1 Cup Water
1 Tsp. Cardamom Powder
Chopped Pistachios for garnishing
Instructions:
Sieve the maida, baking powder
and baking soda together. Add ghee and mix it with hands to form a crumble
mixture. Add curd and mix it gently and keep aside for 20 minutes and cover it
with dump clothe (don't knead it more or overwork with dough). Divide the dough
into equal portions and give the round flatten shaped disc and make a
depression with your thumb in the middle.
Heat the sufficient oil in wok
and when oil is hot enough, add the discs in oil and fry them on low flame.
After few minutes thy will rise up. Fry them till to golden on both sides.
Drain them on separate plate.
Meanwhile mix the sugar, water
and cardamom together in sauce pan to prepare sugar syrup. Once the sugar syrup
reaches one string consistency, switch off the flame. Dissolve the balushahi
into sugar syrup atleast for 10 minutes. Gently remove them and garnish with
chopped pistachios.
Notes:
The dough discs will have cracks on edges; it helps the
sugar syrup to soak into them.
Tags: how to make
balushahi, indian sweets, indian mithai, Diwali recipes, indian festival
recipe, simplytadka, balushahi recipe, sweetfantasyclub, indian dessert, how to
cook or prepare balushahi at home, maida recipe, sugar syrup.
Enter your email address:
Delivered by FeedBurner