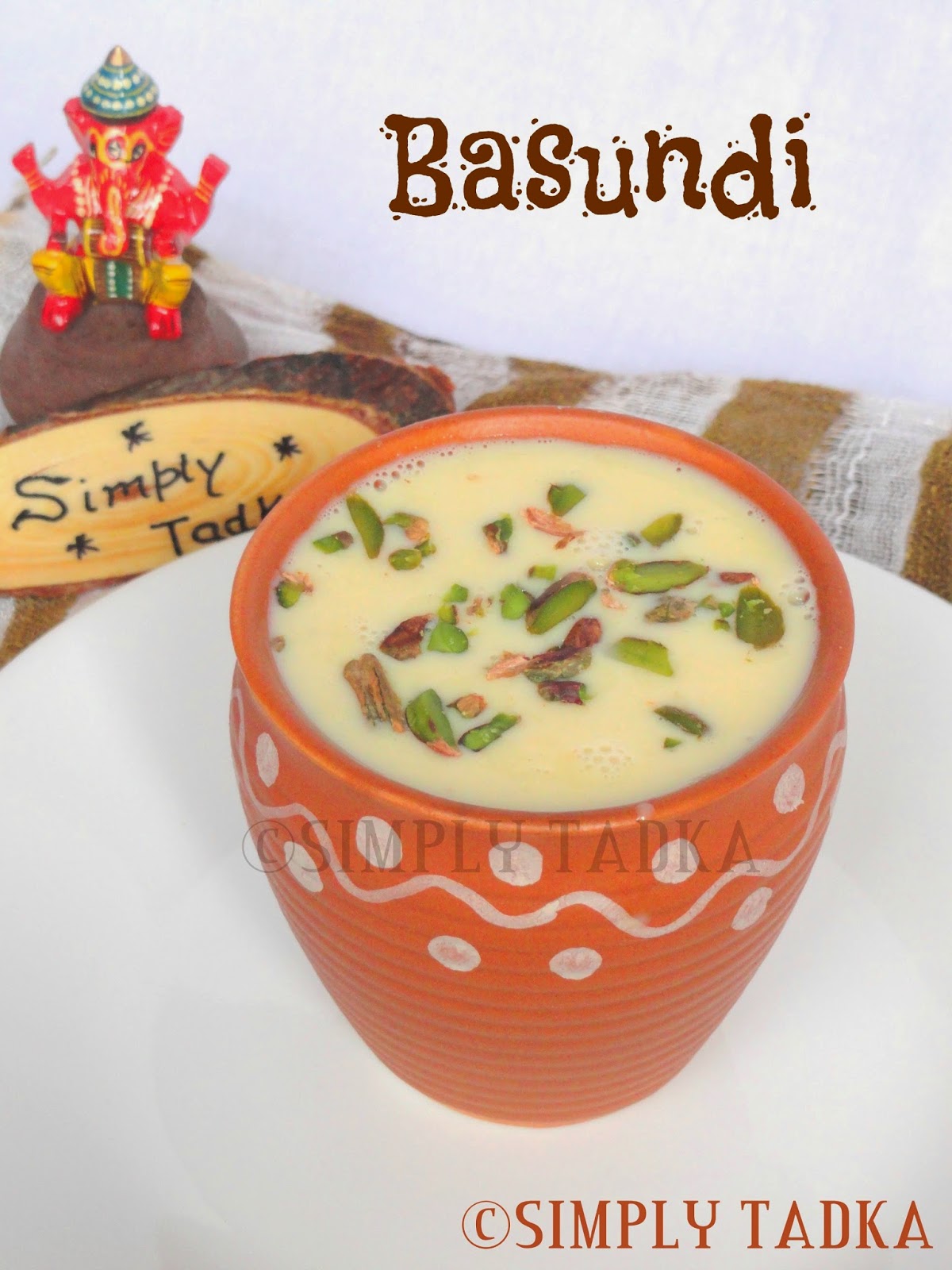 Last Updated on
Basundi is comes from Gujarati Cuisine and its popular
in Maharashtra, Gujarat and Karnataka. It is sweetened
dense milk made by boiling milk on low heat until the milk is reduced by half.
You can prepare basundi in different flavor like sitaphal basundi, apple
basundi, strawberry basundi and orange basundi more. This time I shared
Traditional basundi by using condense milk and nuts for my Sweet Fantasy Club
as Indian Sweet. Generally basundi made on Hindu Festivals such Rakhi, Bhai
doj, Diwali and Holi.  
After
long period, Simply Tadka starts SFC series again for my readers and
co-bloggers hope you will join us soon in upcoming series. If you wanna
participate in SFC share your detail in comment box or drop a mail on my email
id
Simplytadka@gmail.com
.
Preparation Time: 10 Minutes
Cooking Time:  1 Hour Approx.
Servings: 4
Category: Indian sweet
Cuisine: Gujarati Cuisine
Ingredients:
1 litre Milk
1/2 Tin Condense milk or Sugar as taste
1 Tsp. Cardamom powder
Few Strands Saffron
Chopped Almonds, Pistachios for garnishing
Instructions:
Boil the milk in heavy bottom pan till to reduce half on medium flame.
Add saffron and cardamom powder and stir continuously.
Add condense milk as to taste and nuts, cook for another 10 minutes. Remove from the fire.
Garnish with slivered pistachios and serve chilled.
Notes: Reduce the quantity of sugar as per taste.
Tags: how to make basundi recipe, basundi, rabri, milk recipe, Gujarati recipes, sweet recipe, indian mithai , festival recipe, basundi recipe, how to cook basundi recipe at home, instant basundi recipe, simple basundi recipe, dessert recipe, diwali recipe.
Enter your email address:
Delivered by FeedBurner