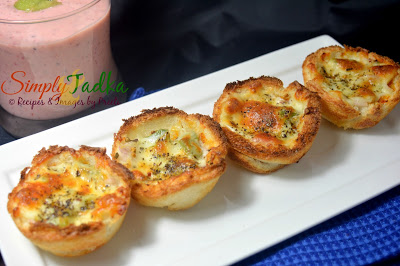 Last Updated on
Cheese Bread Pizza Cup is easy snack recipe and takes less time compare
to pizza recipe. This cute and tempting pizza cups can be a great snack for
kids as well as adults.
To make this recipe, no need to prepare dough or pizza sauce. You can
use readymade pizza or pasta sauce, sometimes when sauce is not available in my
freeze; I used ketchup also instead of pasta sauce.
You can serve these tempting cheesy snacks as holiday recipe or after
school snacks. Even it's a great option for kid's party also.
Bread Pizza Cups
| Cheesy Bread Pizza Cups | Pizza Recipes
Preparation Time: 15
Minutes
Cooking Time: 15
Minutes
Servings: 8
Category: Snack
Cuisine: Fusion
Cooking Method: Baking
Ingredients
8 Brown Bread Slices
1/2 Cup Pizza Sauce or Tomato Ketchup
1/4 Cup Butter
For Filling
1 Medium Sized Onion, Finely Chopped
1 Medium Sized Capsicum, Finely Chopped
1 Medium Sized Tomato, Finely Chopped
1/4 Cup Mozzarella Cheese, Grated
1/4 Cup Processed Cheese, Grated
1 Tsp. Dried Oregano
1 Tsp. Chili flakes
Salt to Taste
Pepper Powder to Taste
Instructions
Preheat the oven at 200°C.
Clean and chop the onion, tomatoes, capsicum, chilies and keep in separate
bowl.
Add salt, pepper, oregano and chili flakes with cheese and mix it
gently.
Take bread slice and cut them into round shape by using cooking cutter.
Spread the sauce evenly on the top of each bread slices.
Grease the muffin pan with melted butter. Place the bread slices
carefully.
Add spoonful filling and topped with little butter and grated cheese.
Bake them for 10 minutes in oven at 200°c.
Serve them hot with shakes or tea as evening snacks.
Tags: how to make pizza cups, bread pizza, bread pizza cups, snacks,
simplytadka, baking, bread, vegetarian, cheese, oregano, party, kids friendly,
foodblogging, pizza recipes, single servings, pizza sauce, holiday recipes,
after school snacks, evening snacks, easy pizza recipe.
Did you make this
recipe?
If yes, do let us know
how it turned out in the comments below. Do share a picture with us
simplytadka@gmail.com
or
share on instagram with hashtag #simplytadkarecipes and tag us
@simplytadka
Check out the Blogging Marathon page for the other Blogging Marathoners doing this BM#78