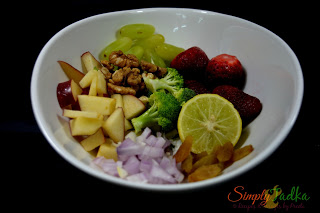 Last Updated on
Broccoli strawberry salad is really awesome in taste and complete meal. This time i shared Broccoli Strawberry Salad with Apple Cider Vinaigrette. For this recipe, combine broccoli, strawberry, grapes, apple, red onion and roasted nuts and raisins together in one bowl and mix with apple cider vinaigrette. Apple cider vinaigrette is simple recipe which made by mixing oil, apple cider and spices.
Broccoli is an edible green plant in the cabbage family whose is eaten as a vegetable.
Apple cider vinegar is a type of vinegar made from cider or apple and has a pale to medium color. Apple cider vinegar is used in salad dressing, marinades, vinaigrettes, food preservatives and chutney. Its is made by crushing and squeezing apples. After fermentation process, sugar are turned into alcohol. After second fermentation process, alcohol converted into vinegar and its taste become sour.
Vinaigrette is made by mixing oil with something acidic such as vinegar or lemon juice. This is commonly used in salad dressing.
Broccoli Strawberry Salad with Apple Cider Vinaigrette
Preparation Time: 15 Minutes
Cooking Time: No
Servings: 4
Category: Salad
Cuisine: Fusion
Cooking Method: Mixing
Ingredients
2 Cups Broccoli Florets
1 Cup Strawberries, Halves
1 Cup Apple, Chopped
1/2 Cup Grapes, Halves
1/4 Cup Onion, Chopped
2 Tbsps. Walnuts, Roasted and Chopped
2 Tbsps. Raisins or Cranberry
For Apple Cider Vinaigrette
1/2 Cup Apple Cider Vinegar
1/2 Cup Cold Water
Rock Salt to Taste
Black Pepper Powder to Taste
1 Tbsp. Olive Oil
1 Tbsp. Honey
Instructions
Combine water and apple cider vinegar together in one bowl and whisk well. Add honey and olive oil and whisk again till to dissolve. Add salt and pepper powder and mix it. Keep in freeze and mix at serving time.
Combine all ingredients of salad in bowl and add vinaigrette and mix it. Serve chilled salad.
Tags: How to make broccoli strawberry salad, apple cider recipes, apple cider vinaigrette recipe, salad recipe, healthy recipe, side dish, fruit recipe, broccoli recipe, strawberry recipe, apple recipe.
Check out the Blogging Marathon page for the other Blogging Marathoners doing BM# 80