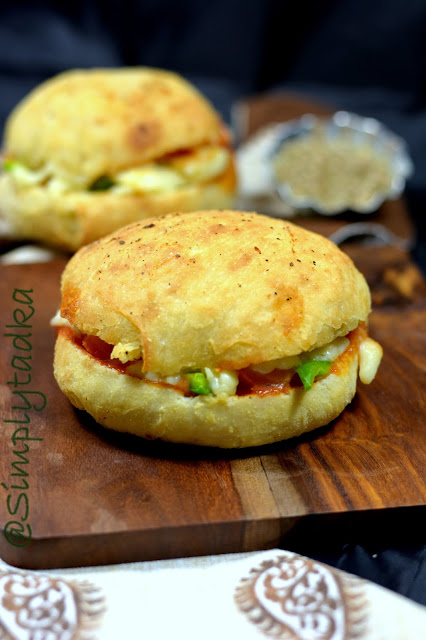 Last Updated on
This time I shared
Burger Pizza recipe which introduced by Dominos. You can easily found two types
of burger pizza in domino's menu, one is premium and second is classic burger
pizza. This time I shared classic burger pizza recipe in which we used filling
only of the crunchy capsicum and tomatoes with ketchup and mayo.
The only difference between both
burger is paneer, which used in premium one. Everyone loves burger and pizza
both, but when you get two flavors in one recipe, i.e. amazing.
For this
burger pizza, you have to prepare the pizza dough first like normal pizza
dough. Bake it like bun and cut into slice and fill with filling and again bake
it till to cheese melts and topped with pepper and oregano seasoning.
Burger Pizza |
Dominos Style Burger Pizza Recipe
Preparation Time: 10 Minutes
Cooking Time: 30 Minutes
Servings: 6
Category: Snacks
Cuisine: Fusion
Cooking Method: Baking
Ingredients
For Pizza Dough
2 Cups All Purpose Flour
1 Cup Warm Milk
1 1/2 Tsp. Yeast
1 Tbsp. Sugar
1/2 Tsp. Salt
Olive Oil
For Filling
1/4 Cup Italian Seasoning
1/2 Cup Tomato Ketchup
1/2 Cup Eggless Mayonnaise
1 Cup Green Bell Pepper, Chopped
1 Cup Tomatoes, Chopped
1 Cup Processed Cheese, Grated
1 Cup Mozzarella Cheese, Grated
Olive Oil, Greasing
Salt to Taste
Pepper Powder to Taste
2 Tbsps. Cornmeal for Dusting
Instructions:
Add flour and salt in a bowl. Take warm water in separte bowl and add sugar and yeast. Keep aside for
10 minutes to foam up.
Add the yeast water into flour and make a soft dough gently. Apply olive
oil and cover it. Keep the dough for atleast 2-3 hours in a warm place till it
double in size.
Press the dough inside to relase the air out and knead the dough again.
Add extra flour if needed. Now your dough is ready to use.
Preheat the oven 200 degree Celsius.
Divide the dough into equal sized balls and give it proper round shape
like buns and dust with little cornmeal.
Lined the foil sheet or baking sheet in tray. Place the buns and grease
with little olive oil and sprinkle seasoning on the top of buns.
Bake the buns at 200 degree for 20-25 minutes or till to rise fully.
Take out the buns and keep it room temp to cool.
Cut the buns into half and spread ketchup and mayo equally on the both
sides.
Now sprinkle little seasoning on the top of sauces. Add both grated
cheese and place the tomatoes and bell pepper in equal ratios.
Sprinkle little salt and pepper powder on the top of veggies. Again add
cheese and cover with another bun slice. Do the same process with rest
ingredients.
Now grease little olive oil and bake it again for 5-8 minutes till to
cheese melts properly and buns get golden and crisp color.
Serve burger pizza immediately with coke and sauce.
Tags: how to make burger pizza at home, pizza, snacks, kids friendly,
foodblogging, simplytadka, bloggingmarathon, fusion, burger, cheese, baking,
buns, italian, oregano, burger pizza recipe, dominos, dominos style burger.
Did you make this recipe?
If yes, do
let us know how it turned out in the comments below.
Do share a
picture with us
simplytadka@gmail.com
or share
on instagram with hashtag #simplytadkarecipes and tag us @simplytadka
Check out the Blogging Marathon page for the other Blogging Marathoners doing this BM#78