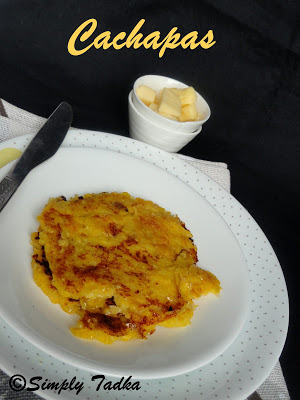 Last Updated on
Cachapas is traditional Venezuelan
breakfast recipe which made from sweet corn. They are very popular as street
food. For this recipe, you have to made cachapas as pancake with fresh ground
paste of corn as thick batter. Cachapas is slightly thicker and chunky form
because of the corn kernel's pieces.
Mostly cachapas, corn pancakes served
with cheese or any meat. They can be prepared as starter or great option as a
breakfast meal with hand cheese and fried pork or fried vegetables.
Cachapas- Corn
Pancakes
Preparation
Time: 10 Minutes
Cooking
Time: 15 Minutes
Servings:
2
Category:
Breakfast
Cuisine: Venezuelan
Ingredients:
2 Cup Corn Kernels, frozen or fresh
4 Tbsps. Cornstarch
1 Tbsp. Olive oil
1/2 Tbsp. Sugar
1 Tsp. Salt
Water, for smooth thick batter
Instructions:
Wash and clean the frozen corn. Combine
corn, cornstarch, butter or olive oil, sugar, salt in grinder and mix until
smooth and thick batter consistency. Add water as needed to give nice texture
to batter.
Heat the heavy non-stick pan on medium
flame, grease with butter or oil and pour ½ cup batter over pan and spread it.
When bubbles appear, turn it and cook it from both sides until to golden.
Repeat the same process with the
remaining batter. Serve hot with butter, cheese or whatever you like.
Notes:
You can use milk instead of water and add more sugar if you prefer more
sweet in taste.
Tags: breakfast recipes, Venezuelan cuisine, international
breakfast, cachapas recipes, cornpancakes, corn pancake recipes, gluten free
pancake, blogging marathon, snacks, street food, starter, appetizers, corn
recipes, gluten free recipes, pancake recipes.
Check out the Blogging Marathon page for the other Blogging Marathoners doing BM# 56
Enter your email address:
Delivered by FeedBurner