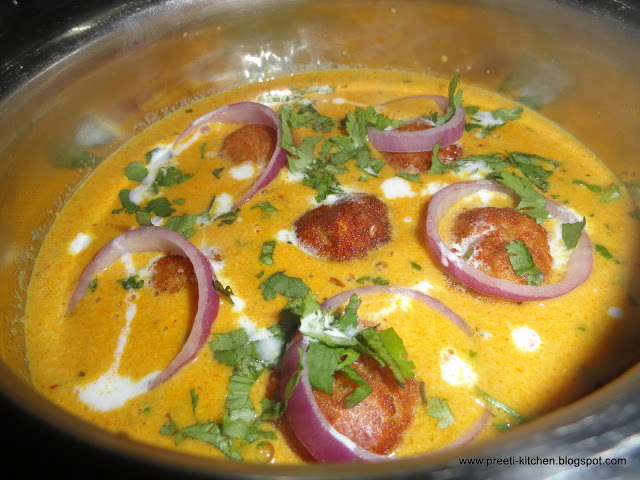 Last Updated on
Kofta can be fried,
steamed, grilled according to what ingredients you added to the mix. I created
this because it makes the soft, easily melt in the mouth kofta cover with the
spicy-sweet sauce. Here gravy
is combination of roasted tomatoes, cream and spices will certainly get your taste buds
start dancing.
Yesterday I was post under
Indian bread/ roti course, now its turn to main course in veg. form. Hope all of you like this and try at your kitchen one
time.
Ingredients
For cheese balls
200 gm. Cottage Cheese (Paneer)
2 Potato
1/2 tsp. Red Chilli Powder
salt to taste
2 tbsp. Corn flour
2 tbsp. Bread crumbs
Oil for frying
For Gravy
4 Tomato
1/2 cup Cream
2 tsp. tomato ketchup
1 green chillies (chopped)
½ tsp. Cumin Seed
½ tsp. Salt
½ tsp. Red Chili Powder
¼ tsp. Turmeric
¼ tsp. Garam Masala
½ tsp. coriander powder
2 tbsp. Clarified Butter (Ghee)
Green coriander chopped for garnish
Method
Boil potatoes and peel them and grate paneer and potatoes.
Add salt, red chilli powder, corn flour and mix well.
Make round balls of this mixture.
Now roll the paneer balls in bread crumbs powder.
Now heat oil in a pan and fry balls in the oil till golden in color.
Roast the tomato direct on gas (show pic) or in microwave.
Make puree of green chillies and tomatoes together.
Heat ghee in a pan and add cumin seed.
Add tomato paste and brown it, stirring continuously.
When it leaves oil add cream, red chili powder, turmeric, garam masala, salt and coriander powder.
Stir it continuously for a minute.
Add 2 cup of water.
Boil the gravy for 5 min on low flame.
While serving reheat the gravy and add cheese ball to it.
Garnish it with chopped coriander leaves and with cream.
Picture Gallery
crumbled cottage cheese
corn flour
bread crumbs
Ready cheese balls
Roasted tomatoes on gas
Peel the tomatoes
roasted tomatoes puree
add cumin seed in ghee
Ready to eat
Submit to this recipe in following events
Blogging Marathon page for the other Blogging Marathoners doing BM#12