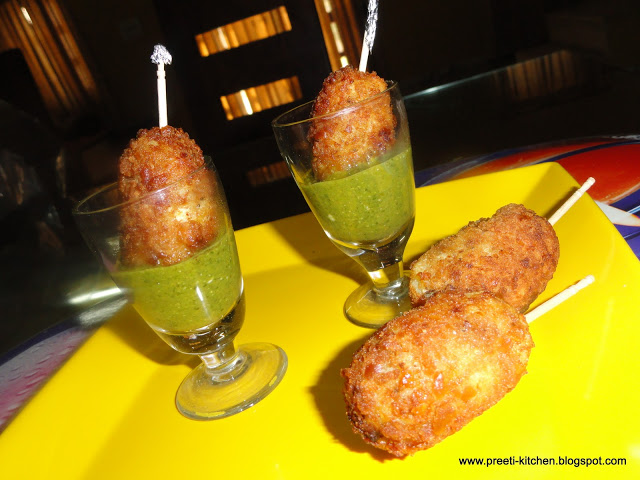 Last Updated on
Yesterday
I was post recipe under main course, now the time for some starters and snacks.
So this recipe is good option for tea time snacks.
Today
I post "Cheese Potato Pop" under starter segment. It's a combination of potato
and paneer mixture roll, dust with crumbs of cornflakes and biscuits and then
deep fry in oil.
I
was made this snack for my family party on spl. Occasion Republic Day and everyone
like it so much. Its crunchy and spicy taste hits your taste buds surely
Ingredients
200 gm. Crumbled Cottage cheese (paneer)
2 large potatoes boiled and grated
1 onion chopped
1 green chilies chopped
1 tsp. raisins
1 tbsp. green coriander chopped
Salt to taste
½ tsp. red chillies powder
½ tsp. roasted cumin powder
½ tsp. coriander powder
¼ tsp. garam masala
2 tbsp. plain flour (maida)
¼ tsp. black pepper powder
Oil for deep frying
Mixture of cornflakes and biscuit powder
(In mixer add cornflakes and biscuit and crushed them)
Method
In a bowl, add boil, peel and grated potatoes, crumble paneer,
onion, green coriander, green chilies, chopped raisins, salt, garam masala,
coriander powder, red chilies powder and roasted cumin powder.
Mix well like a dough and make cylindrical shaped.
Add plain flour, salt, black pepper in other bowl and add water
for thick batter.
Dip in the flour batter and roll in crushed cornflakes and
biscuit mixture.
Keep this kabab in the freeze for half an hour to set.
Heat the oil in deep pan and deep fry this till golden brown
color and remove from the oil on tissue paper for removing extra oil.
Serve this cheese and potatoes pop with green chutney and tea.
Picture Gallery
Submit this recipe to
Blogging Marathon page for the other Blogging Marathoners doing BM#12