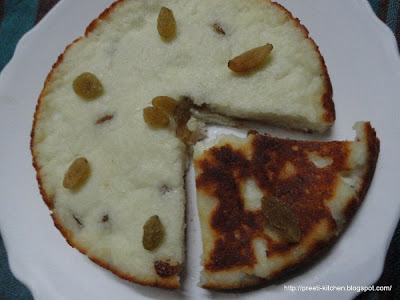 Last Updated on
For this April month's ICC- Indian Cooking
Challenge, Srivalli chose Chhena Poda, an authentic recipe of Orissa
shared by Any One Can Cook. I never heard and
tried this recipe. Srivalli suggested Titilating Tastebuds post for reference. Through this link, I got a
general idea about this recipe. Thanks for sharing this wonderful recipe with
us.
Chhena poda is the quintessential cheese dessert from the state of Orissa in eastern India. Chhena
poda literally means burnt
cheese in Oriya. It is
made of well-kneaded homemade cottage
cheese or chhena, sugar, cashew nuts and raisins,
and is baked for several hours until it browns. Chhena poda is the only
well-known Indian dessert whose flavour is predominantly derived from the
caramelisation of sugar.
It is said that Chhena poda originated in the Orissan town of Nayagarh in the first half of the twentieth
century. The owner of a confectionery, a certain Bidyadhar Sahoo decided
to add sugar and seasonings to leftover cottage
cheese one night, and leave it in
an oven that was still warm from earlier use. The next day, he was pleasantly
surprised to find out what a scrumptious dessert he had created. Chhena poda
soon became popular throughout Orissa. Today, it is also made in West Bengal and elsewhere in India. Chhena poda is usually made at home during
traditional festivals in Orissa, such as Durga
Puja. (Source of information is
Wikipedia).
Now come how to prepare this wonderful cottage cheese
cake/ chhena poda, today I tried this recipe first time in my kitchen so I take
very little quantity and do baking in pressure cooker instead of microwave or
oven. So here I post both methods…. to cook in cooker as well as to cook in
oven.
Pictorial details
add all ingredients together
make like soft dough
set into aluminium vessel for baking
set salt layer into cooker and heat it for 5 min on high flame
place the batter vessel into cooker and bake it for 30-40 minutes
now ready to serve and garnish with raisins
Ingredients
250 gm. Cottage cheese or chhena (its crumble homemade
cheese)
1 1/2 tbsp. castor sugar or powdered sugar
1/2 tbsp. semolina or suji or rawa
1/2 tsp. green cardamom powder (elachi powder)
10-15 raisins
Few chopped cashews (optional)
Ghee or butter for greasing
Salt (for baking process)
How to prepared Chhena Poda or Cottage Cheese Cake
In a bowl, mash Chenna or cheese thoroughly. Add Suji
and powdered sugar and rest of the ingredients. Mix it well using hands just
like a soft dough. To get a caramelized effect on the top, apply a tsp.
of ghee to the baking tin. Sprinkle 1 tsp. of sugar on the tin. Hold the tin
slightly above gas stove for few minutes to melt the sugar. Spread the melted
sugar evenly. Then pour the chenna mix
over the caramelized sugar.
For baking in oven:
Bake on preheat oven of 180 ' C for one hour. Insert a
toothpick to check. It is cooked well if the tooth comes out clean. Cool it for
2 to 3 hours and then turn it upside down. Slice and serve. It stays fresh for
a week in the refrigerator.
For baking in pressure cooker:
Fill the cooker with salt till 1 1/2 inches and place
the cooker lid. Preheat the cooker for 5 minutes on high flame with
the salt. (We are following the same
principle as in the oven but here the salt is heated and the batter gets cooked in
the heat produced by the salt.) Now, keep
the flame in low and place the aluminium vessel with
the cheese batter carefully inside the cooker. Close the cooker, 30 minutes to be done.
Check it after 30 minutes by inserting a knife
or toothpick in the center of the batter, if it comes out clean, means it's
done, otherwise cook for some more time. (Mine took 30-35 minutes)
Cool it for 2 to 3 hours and then turn it upside
down. Slice and serve. It stays fresh for a week in the refrigerator.
Submit this Chhena Poda recipe with following events: