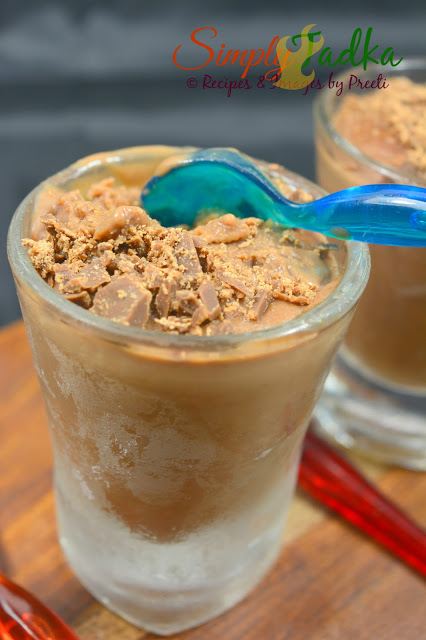 Last Updated on
I'm
chocolate lover person, always tried different chocolate recipes especially
eggless. When I tried this chocolate pudding, woh bhi eggless just like sone
pe suhagaa.. totally lovin it. I prefer chilled pudding but you can enjoy
hot version also.
For more
riched and chocolatey taste, I used Cadbury silk chocolate in this pudding
while cooking and in serving also. I used vanilla flavored custard powder, if
you don't have this ingredient in your kitchen… used normal cornflour with
extra drops of vanilla essence.
Easy Eggless Chocolate
Pudding Recipe| Chocolate Recipes
Preparation Time: 10 Minutes
Cooking Time: 10 Minutes
Servings: 6 Mini
Category: Dessert
Cuisine: Fusion
Cooking Method: Boiling
Ingredients:
2 Cup Milk
2 Tbsp.
Milk Chocolate, Grated
3
Tbsps. Custard Powder
2 Tbsp.
Cocoa Powder
3 Tbsp.
Sugar
Few
Drops of Vanilla Essence
Chopped
Chocolate (Shaving) for garnishing
Instructions:
Combine
custard powder, cocoa powder and sugar in bowl, add ½ cup milk and mix well. Keep
aside.
Boil the
remaining milk in saucepan. When milk starts boiling, add custard mixture and
chocolate in milk.
Stir gently
to avoid lumps on medium flame. When you get correct stage of thick
consistency, remove from the flame.
Add vanilla
essence and mix well. Pour in small size glasses or bowl to serve and garnish
with chocolate shaving or choco chips.
Notes: Refrigerate this
pudding atleast 1 hour before serving. You can use cornflour also instead of custard
powder.
Tags: eggless chocolate pudding,
easy pudding recipes, pudding recipes, chocolate recipes, eggless recipes, simply tadka, blogging
marathon, dessert recipes, summer recipes, kids special recipes, instant
recipes, quick dessert recipe, custard recipes, cocoa powder recipes, easy
chocolate recipes, milk recipes.
Check out the Blogging Marathon page for the other Blogging Marathoners doing this BM#73
Enter your email address:
Delivered by FeedBurner