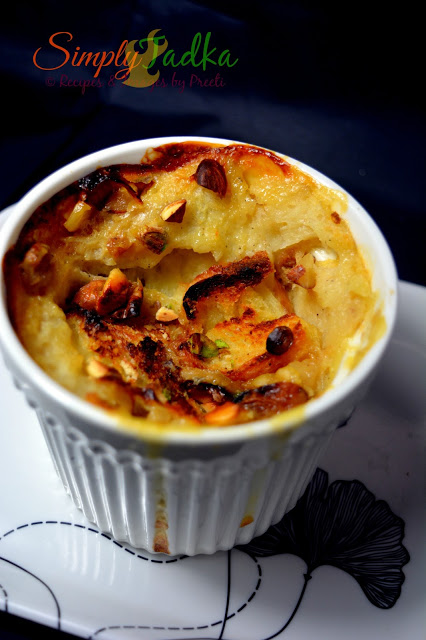 Last Updated on
Second
recipe I choose under pudding theme i.e Eggless Bread Pudding. Th.is dessert is
easy and absolutely delicious in taste and appeal. It is easy to assemble with
few ingredients and also good for your sweet tooth.
Bread
pudding is a bread based dessert popular in many countries. In India it's known
as double ka meetha and also known as budin or pudin in many other countries.
Bread
pudding is made with stale bread and milk or cream,
generally containing eggs, a form of fat such as oil, butter or suet, and
depending on whether the pudding is sweet or savory, a variety of other
ingredients.
Sweet bread
puddings may use sugar, syrup, honey, dried fruit, nuts, as well as spices such as cinnamon, nutmeg, mace, or vanilla. The
bread is soaked in the liquids, mixed with the other ingredients, and baked.
Savory
puddings may be served as main courses, while sweet puddings are typically
eaten as desserts.
Eggless Bread Pudding| Baked Bread Pudding | Eggless Pudding
Recipes
Preparation Time: 10 Minutes
Cooking Time: 35 Minutes
Servings: 4
Category: Dessert
Cuisine: Fusion
Cooking Method: Baking
Ingredients:
8 Slices Bread
2 Cup Milk
1 Tbsp. Custard
Powder
1/2 Cup Sugar
1 Tsp. Cardamom
Powder
Few Drops of
Vanilla Essence
1 Tbsp. Butter
Raisins and
Almonds, For Garnishing
Instructions:
Add the milk
in saucepan, add custard powder, sugar and butter and mix well to avoid lumps.
Now cook the
mixture on medium flame, till to sugar dissolve completely and custard
consistency little thick.
Remove from
the flame and add vanilla essence and cardamom powder. Allow to cool at room
temperature.
Cut the
bread slices into small cubes. Soak the bread in the milk.
Grease the ramekins
with butter and pour the batter in ramekins.
Topped with
raisins or almonds whatever you like.
Bake it in a
preheated oven at 180 degree cel for 25-30 minutes.
Enjoy this
lovely and tasty pudding with extra spoon of fruit compote.
Tags: how to make bread pudding at home, homemade pudding, eggless
pudding recipes, eggless recipes, bread recipes, pudding recipes, desserts,
simply tadka recipes, blogging marathon, baking recipes, milk recipe, custard
recipes, easy pudding recipes, something sweet recipes.

Check out the Blogging Marathon page for the other Blogging Marathoners doing this BM#74