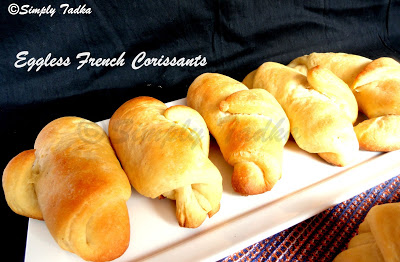 Last Updated on
French croissants are the perfect for breakfast or even
anytime with tea or coffee. I love the flavor of butter and softness. You can
add little cheese or paneer stuffing for stuffed croissants. I choose this
eggless croissants recipe for French cuisine theme under Blogging Marathon#55.
Preparation Time: 2 Hours
Cooking Time: 15 Minutes
Servings: 8
Category: Breakfast
Recipe Source: Bhavna Kitchen
Ingredients
1 1/2 Cup All Purpose Flour
2 Tsp. Rapid Rise Yeast+ 1/3 Cup Lukewarm Water+ 1 tsp. Sugar
1 Tbsp. Sugar
1 Tsp. Salt
1 1/2 Tbsp + 1/2 Tbsp Oil
6 Tbsp. Butter
2 Tbsp. Milk
1/4 Cup Flour, for Dusting
Instructions:
Add lukewarm water, sugar and yeast together and keep aside
for 10 minutes.
In separate bowl, add flour, sugar, salt and oil and mix well
with fingertips.
Mix the yeast gently and add into flour mixture. Knead the
dough and more water if needed.
Drizzle some oil over the dough and grease the bowl. Cover the
bowl with cling wrap and keep aside to double in size for 60 minutes atleast.
Take the dough and knead for two three minutes more. Roll the
dough 1/8 inch thick. Spread the butter over the dough and sprinkle little
flour and fold it like puff pastry.
Again roll it and grease with butter and sprinkle flour and
fold it.
Roll again into 1/4 inch circle and cut into pizza slices and
roll each piece into croissant shape.
Preheat the oven at 190 degree. Line a baking tray with
butter paper and keep aside.  
Place the croissant over the tray and keep aside for atleast
30 minutes. Grease the top with milk and bake it for 15 minutes.
Tags
:
Blogging Marathon
, French Cuisine,
French recipes, Breakfast recipes, French breakfast, croissants recipes, how to
make croissants, eggless croissants, French croissants, buttery and flaky
croissants, flour recipes, bread recipes.
Enter your email address:
Delivered by FeedBurner