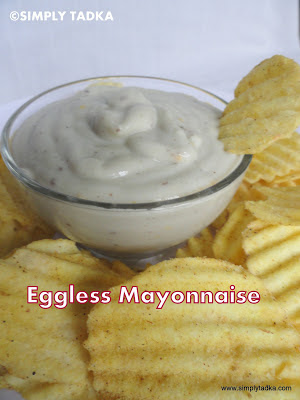 Last Updated on
On the last day of Basic recipe theme I choose Egg-less Mayonnaise to prepare at home. It's very common thick or creamy texture sauce which spread on bread at the time of making sandwiches and burger or you can serve with cucumber or apple slices, even with chips and bread sticks to.
Mayonnaise is a thick, creamy sauce often used as a condiment.  It is a stable emulsion of oil, egg yolk and either vinegar or lemon
juice, with many options for
embellishment with other herbs and spices. Mayonnaise varies in color but is often
white, cream, or pale yellow. It may range in texture from that of light cream
to thick. Mustard is also a
common ingredient in mayonnaise. In Spain and Italy, olive oil is used as the oil and mustard is
never included.
Preparation time: 0 Minutes
Cooking time: 12 Minutes
Serving: 1 Cup
Ingredients
2 Tbsp. Refined Flour/ Maida
1 Cup Milk
1 1/2 Tbsp. Butter
1 Tsp. Salt
1 Tsp. Sugar
3 Tbsp. Vinegar
1/4 Tsp. Black Pepper Powder
1/2 Mustard Powder
Pictorial
Add Black pepper powder, sugar and mustard powder in white sauce
Add Vinegar and whisk well
Thick creamy Mayonnaise is ready
Direction
First prepare white sauce with flour, salt butter and milk, when white
sauce becomes room temperature.  Add
sugar, black pepper, mustard powder and vinegar and whisk well. Keep in freeze
for further use in making sandwiches, burger and also serve with chips as dip.
Submit this recipe with
following events:
Enter your email address:
Delivered by FeedBurner