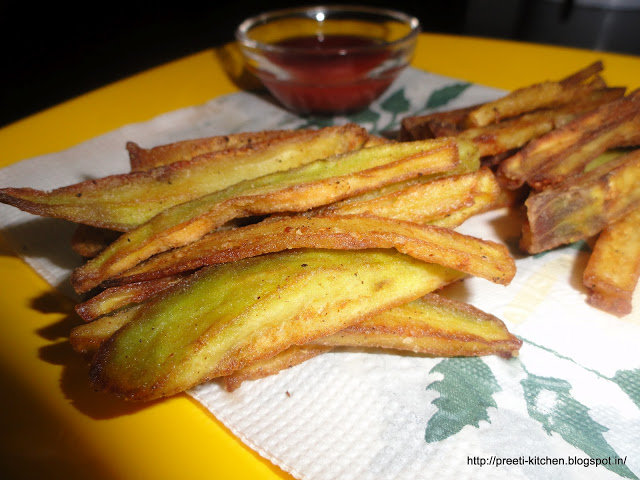 Last Updated on
Now Today 3rd day of BM#13 and here is my new recipe
for CHIPs theme. My recipe name is "EGGPLANT FRIES" or "BAIGAN KURKURE".
In India, Eggplant mostly knows by the name of brinjal or
baigan. We know brinjal is the king of vegetables and it's taking less time to
cook.
I prepared eggplant fries in the evening snack. For this 1st
we have to cut the brinjal in long strips shape and toss with flour and spices.
Then fry this sticks in oil for the more crispier and tastier. Here is one more
option for the instant fries or you can adopt my last method in this fries which I
was used in
Potato French Fries
means toss the sticks in corn-flour.
At the point of Nutrition value, eggplant contains High in
Dietary Fibres, Potassium, Manganese, Vitamin C, Vitamin K, Thiamine, Niacin,
Vitamin B6, Pantothenic Acid, Magnesium, Phosphorus and Copper. The nutritional
value and health benefits of eggplant make it ideal for maintaining optimum
health and weight loss.
Ingredients
3 eggplants (long brinjals)
2 tbsp. plain flour (maida)
Salt to taste (namak)
½ tsp. black pepper powder (kali mirch)
½ tsp. oregano
Oil for deep frying
Chaat masala
Tomato ketchup
Method
Peel and wash the eggplants and cut in thin and long strips shape
like a sticks.
Now add the flour, salt, pepper powder, oregano and mix well.
Mix eggplant sticks in flour and coat well.
Now fry the sticks in the hot oil until get crispy and golden.
Remove this fries on the kitchen towel and sprinkle chaat
masala, salt and pepper powder.
Serve hot eggplant fries with ketchup and tea or coffee.
Submit this recipe with following events:
Blogging Marathon page for the other Blogging Marathoners doing BM#13