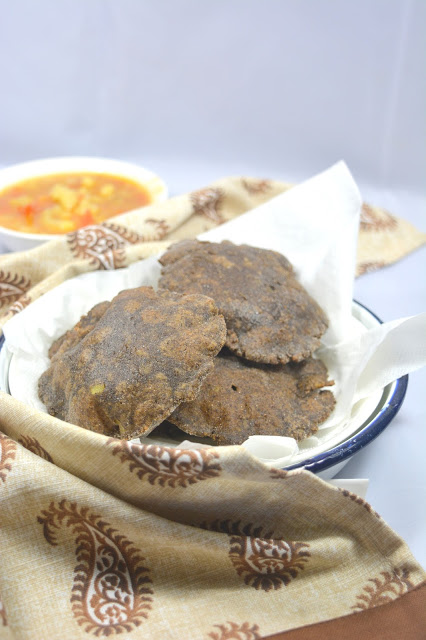 Last Updated on
Kuttu or Buckwheat is
one of the grains that is eaten during fasting days. There are varieties of
recipes available which you can prepared using buckwheat grain or buckwheat
flour. Buckwheat poori is made by buckwheat flour combine with boiled potatoes because
flour is gluten free. Even you can serve these pooris with curd and farali aloo
ki sabji.
To make farali aloo ki
sabzi, cook boiled potatoes with tomatoes, chilies, salt and pepper. Its very
simple and quick recipe which you can eat during fasting days with poori,
khichdi or samak rice.
Buckwheat is 72% carbohydrates, including 10% dietary fiber, 3% fat and
13% protein.
Buckwheat Poori | Kuttu ki Poori with Farali Aloo ki
Sabzi
Preparation Time: 15 Minutes
Cooking Time: 30 Minutes
Servings: 4
Category: Indian Bread
Cuisine: Farali
Cooking Method: Fried
Ingredients
For Farali Buckwheat Poori
1 Cup Buckwheat Flour
2 Medium Sized Boiled
Potatoes
1 Tsp. Green Chilies,
Finely Chopped
2 Tbsps. Green
Coriander, Finely Chopped
Rock Salt To Taste
Black Pepper Powder to
Taste
Oil for Frying
For Aloo ki Sabzi
4 Boiled Potatoes,
Peeled and Diced
2 Tomatoes, chopped
2 Green Chilies, Finely
Chopped
1 Tsp. Ginger, Finely
Chopped
1 Tsp. Cumin Seeds
2 Tsp. Ghee
1 Tsp. Coriander Powder
Rock Salt to Taste
Black Pepper Powder to
Taste
2 Tbsp. Coriander
Leaves, Finely Chopped
Instructions
For Poori
Mash the potatoes and
combine with other ingredients except oil. Knead into dough like kachori type.
Heat the ghee or oil in
wok, when oil is hot enough.
Make a small balls of
dough and roll each into small puris.
Fry each piece of puri
in ghee.
When cooked on one side turn it and cook on
other side also until turns light brown.
Serve hot with aloo ki
sabji or raita.
For
Aloo Ki Sabji
Heat the ghee in wok, add cumin seeds.
When they starts splutter, add ginger and green chilies,
saute one minute.
Add chopped tomatoes, pepper powder, coriander powder and
salt, saute till to release oil.
Add roughly mashed potatoes and 1 cup water. Cook on low
flame till to little thicken.
Remove from the flame, garnish with coriander and serve with
poori.
Tags: How to
cook poori and aloo ki sabji, aloo masala ki sabji, kuttu ke atte ki poori,
buckwheat poori, puri, indian bread, farali food, farali aloo ki sabzi, farali
poori, navratri food, falahar, protein, bloggingmarathon, simplytadka,
potatoes,
Check out the Blogging Marathon page for the other Blogging Marathoners doing BM# 80