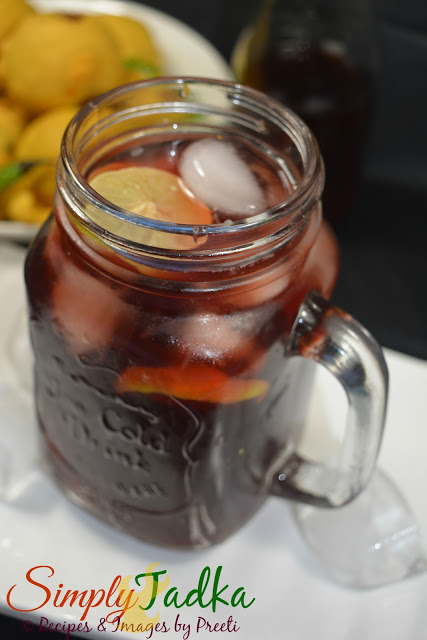 Last Updated on
Ice Tea is a
form of cold tea, served in a glass with lots of ice cubes. Iced tea is also a
popular packaged drink. It can be mixed with flavored syrup and also with
multiple flavors including lemon, ginger, peach, orange, mango, cherry and
strawberry and many more.
Most of time
ice teas get their flavor from common black tea leaves but herbal teas
including green tea, jasmine tea are also sometimes served cold as iced tea.

Now iced tea is a common drink in India. You can easily found at restaurants,
hotels and other eatery places. The most common flavor of iced tea in India is
ginger lemon iced tea, lemon iced tea.
Today I
shared Grape Lime Iced Tea recipe in my blog, hope all of you like it.
Grape Lime Iced Tea | Grape Iced Tea Recipe
Preparation Time: 20 Minutes
Cooking Time: 10 Minutes
Servings: 2
Category: Beverages
Cuisine: French
Cooking Method: Boiling
Ingredients:
1 Cup Grape
Juice
1 1/2 Cup
Water
1 Tbsp.
Lemon Juice
1 Tbsp.
Green Tea or Black Tea
Sugar as
Taste
Ice Cubes as
needed
Lemon
Wedges, for garnishing
Instructions:
First
prepare the tea base, bring water to a boil.
Now add two
green tea bags and sugar, keep aside to infuse.
Drain and
keep this tea base in freeze till to chill.
Now take a
serving glass, add some ice cubes, chilled green tea base, grape juice, lemon
juice, lemon wedges and serve chilled.
Notes: whenever I try flavored iced tea, prefer to use green tea bag
for better and healthy taste.
Tags: how to make grape iced tea, iced
tea recipes, tea recipes, green tea recipes, grape recipes, blogging marathon,
simply tadka recipes, food blogging, beverages, summer recipes, drink, cold tea
recipes, chilled tea recipes, fruit based iced tea, lemon recipes.
Check out the Blogging Marathon page for the other Blogging Marathoners doing this BM#74
Enter your email address:
Delivered by FeedBurner