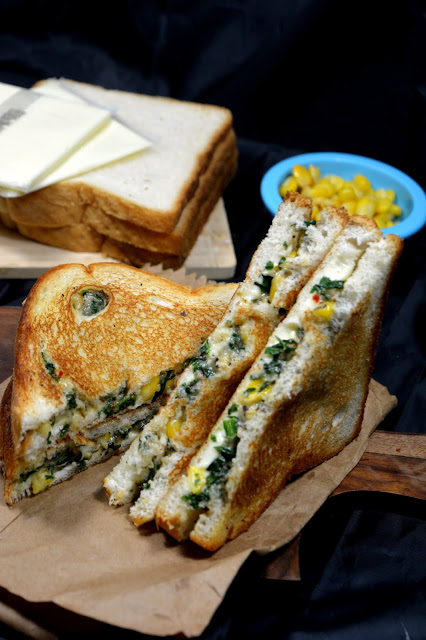 Last Updated on
Grilled Cheese
Spinach Corn Sandwich is very interesting and creamy texture sandwich which
looks crisp from the outside but taste is cheesy, creamy and savory inside.
Love the melted cheese, crispy bread and stuffing of spinach and corn.
For this sandwich,
you have to prepare white sauce based creamy spread with using flour, milk and
butter, after that combine with spinach, corn and seasoning. Use this spread on
bread and grilled with butter and cheese.
Its a perfect
snack for tiffin or breakfast. You get enough protein and iron through corn and
spinach. But if you want to make healthier sandwich tried to use multi grain
bread instead of normal bread.
Grilled Cheese Spinach Corn Sandwich

Preparation Time: 10 Minutes
Cooking Time: 25 Minutes
Servings: 4
Category: Sandwich
Cuisine: Indian
Cooking Method: Grilled
8 Bread Slices
1 1/2 Cup Spinach,
Blanched
1 Cup Corn
2 Green Chilies,
Chopped
8 Cheese Slices
1/2 Cup Butter,
Melted
For Roux
4 Tbsps. Butter
4 Tbsps. Flour
1/2 Cup Milk
1/2 Tsp. Oregano
Salt to Taste
Pepper Powder to
Taste
Instructions
Heat the butter in
a non-stick pan, add flour and roast it on low flame. Add milk and cook till
smooth consistency like sauce. Add salt, pepper and oregano and mix it.
Add thaw corn and
chopped spinach into white sauce and cook for 2 minutes more. Remove from the
heat and keep aside. Add chopped green chilies if you desire.
Take bread slices,
spread spinach corn sauce spread evenly. Place two cheese slices and cover with
another bread slice. Spread little butter both slides. Grill it till to golden
and crisp or cook on griddle.
Notes: you can use mayonnaise also.
Tags: how to make spinach corn sandwich,
sandwiches, bread recipe, simplytadka, spinach recipes, corn recipe, cheese
recipe, snacks, grilled sandwiches, grilled recipe, vegetarian, roux recipe, blogging
marathon, grilled cheese spinach corn sandwich, easy level recipe, breakfast
recipe, lunchbox recipes.
Did you make this recipe?
If yes, do let us
know how it turned out in the comments below.
Do share a picture
with us simplytadka@gmail.com or share on Instagram with hashtag
#simplytadkarecipes and tag us @simplytadka
Check out the Blogging Marathon page for the other Blogging Marathoners doing BM# 80