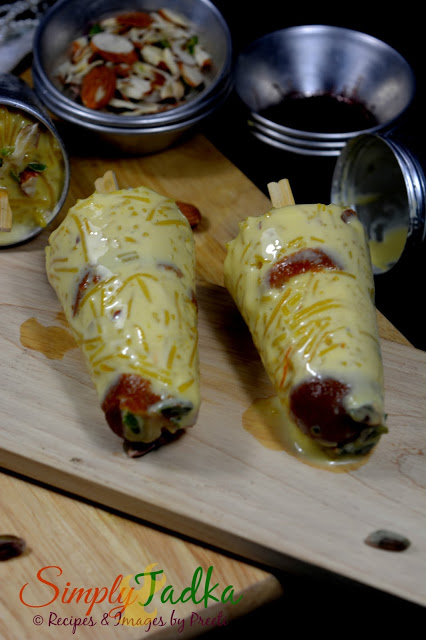 Last Updated on
Our Indian home always fill-up
with one or two mithais every time. If you fed-up with normal mithai then it's
time to taste fusion and try something innovative. We reveal one more recipe
under the category of fusion with Indian mithai… i.e. Gulab Jamun Vermicelli Pudding Kulfi.
Every Indian loves hot gulab jamun and hot
hot seviyan in chilled weather or festive time. But it's very tough to eat this
type mithais in hot summer. So to beat the heat, serve gulab jamun and kheer
with a new twist… in form of kulfi.
Even you can also serve this recipe as
parfait where serve the layers of kheer and crushed gulab jamuns in
glass.
But I love kulfi version, for this you have to
cook vermicelli pudding or you can say simple seviyan kheer in thick consistency
and other side cut the gulab jamun into round shape and freeze in molds. Now
your kulfi is ready to serve. Enjoy this chilled kulfi with your friends and
family in hot summer.
Share your precious opinion with us.

Gulab Jamun Vermicelli Pudding Kulfi
Preparation
Time: 10Minutes
Cooking Time:
15-20 Minutes
Servings:
6
Category:
Frozen
Cuisine:
Indian
Cooking
Method: Stove, Freezer
Ingredients
Kesar Vermicelli
Pudding
1/2 Cup Roasted Vermicelli
2 Cups Full Cream Milk
1/4 Cup Condense Milk
1/4 Tsp. Green Cardamom Powder
Few Strands of Saffron
1 Tbsp. Chopped Almonds
1 Tbsp. Chopped Pistachios
Others
5-6 Mini Gulab Jamuns
1 Tbsp. Chopped Nuts, Garnishing

Instructions
Boil the milk in thick bottom pan on high flame. Once milk starts boiling,
switch the flame on low.
Add roasted vermicelli in boiling milk, mix
it and keep stirring continuously otherwise it comes together.
After 5 minutes, Add cardamom powder and
soaked saffron strands in boiling milk and mix it gently.
Add condense milk and keep stirring on low
flame. Add chopped nuts and cook for next 10 minutes.
Now you get perfect saffron color in
pudding… cook till to vermicelli glossy and thick consistency.
Now kesar vermicelli pudding is ready to use
further, keep in room temperature.
Take few gulab jamuns and cut them into
slices and keep in separate bowl.
Now take kulfi molds, add one slice of gulab
jamun in bottom, after that pour one or two tbsps vermicelli (depend on mold
size).
Again add two three slices and pour vermicelli
pudding and topped with chopped nuts, add ice-cream stick and keep in freezer
till to set.
Now your Gulab Jamun Vermicelli Pudding Kulfi
is ready to serve. ENJOY!

Notes: You can serve this recipe
without freezing as parfait dessert in glass.
Adjust the sugar level as per tastebuds as
we already used some gulab jamun and condense milk.
You can make simple vermicelli kheer or
meethi seviyan.

Tags: how to make gulab jamun vermicelli
kulfi, kulfi, pops, ice-cream, frozen, summer, simplytadka, food blogging,
fusion, fusion with mithai, blogging marathon, gulab jamun, vermicelli kheer, vermicelli
pudding, vermicelli kulfi, gulab jamun kulfi, dessert, no bake dessert, semiya
kulfi.
Did you make this recipe?
If yes, do let us know how it turned out in the comments
below.
Do share a picture with us
simplytadka@gmail.com
or share on Instagram with hashtag #simplytadkarecipes
and tag us @simplytadka.
Check out the Blogging Marathon page for the other Blogging Marathoners doing this BM#78