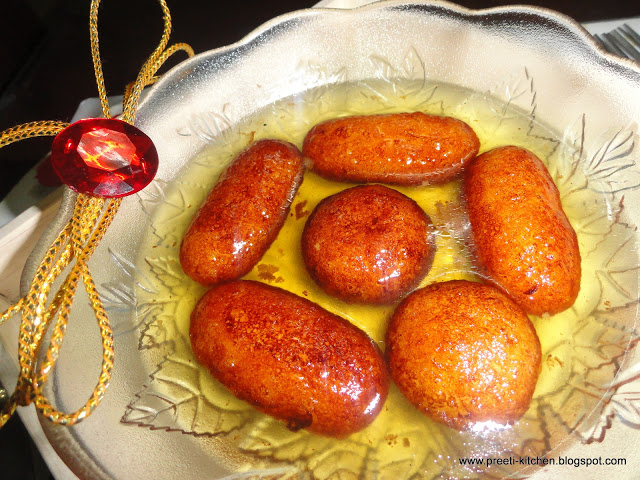 Last Updated on
Gulab Jamun is very popular sweet spl in
North India, and it's serving as hot as a dessert. For the second day in BM#14,
my recipe is Gulab Jamun, which prepared by mixing and make smooth dough of
maida, mawa and paneer.
Ingredients
1 ½ cup Mawa (khoya)            
¼ cup Paneer (cottage cheese)
¼ tsp. Soda bicarbonate (meetha soda)
3 tbsp. Refined flour (maida)
¼ tsp. Green cardamom powder        
2 cup Sugar
Ghee to deep fry
Method
Grate khoya and paneer and keep
aside. Mix the both with soda bicarbonate and maida to make soft
dough. Divide into equal portions and shape into small balls or oval. Prepare
sugar syrup with sugar, green cardamom powder and two cups of water. Clear the
syrup by removing the scum, if any. Heat the ghee/oil in a deep pan. Add the
balls and deep fry on low heat till golden in colour. Drain and soak in the
sugar syrup for at least fifteen minutes before serving.
Submit this recipe with following:
Blogging Marathon page for the other Blogging Marathoners doing BM#14