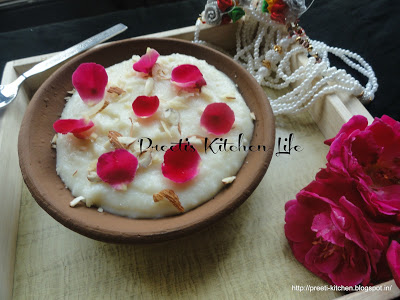 Last Updated on
Today I create "Gulab Phirni" for the very special occasion and
holiest Islamic Month of "Ramadan" which celebrate by Muslim community. For this
occasion and also posted this "Gulab Phirni" recipe under Rich Calcium Food
theme in Blogging Marathon# 19, because in this recipe I used almonds and milk;
both ingredients are the good and rich source of calcium.
Ramadan is the ninth month of the Islamic
calendar, and the month in which Muslims believe the Quran was revealed. Fasting during the month of Ramadan is one of
the Five Pillars of Islam. The
month is spent by Muslims fasting during the daylight hours from
dawn to sunset. Muslims believe that the Qur'an was sent down to the lowest heaven during this month, thus being prepared
for gradual revelation by Gabriel
to the Islamic prophet Muhammad. Furthermore, Muhammad told
his followers that the gates of Heaven would be open all the month and the
gates of Hell would be closed. The first three days of the next
month, Shawwal, is spent in
celebrations and is observed as the "Festival of Breaking Fast" or Eid ul-Fitr.
Under this recipe, we grind the rice and mixture will add with milk
and stir it continuously and add some flavors in it. You can garnish with dry nuts
and rose petals. It's good dessert at the time of festivals and celebrations.
You can serve this phirni cool or hot whatever you like, but I prefer chilled
version of phirni. It's taste just like simple kheer but its look like a rabri,
Easy to make as compare to traditional kheer.
Ingredients
2 Cup Milk
1/3 Cup Rice
200Gm Amul Mithai Mate (Condense Milk)
1 Tsp. Green Cardamom Powder
1 Tbsp. Rose Water
Sugar (optional)
For Garnishing
Almond Flakes
Fresh Rose Petals
Direction
Wash and soak the rice in water for 1 hour. Now
grind it with little milk or water.
Now add the milk and rice paste in heavy bottom pan
and heat on medium flame. Stir continuously till to become thick and cook well.
Now add sugar and condense milk in it and cook for just 2 minutes more and
remove from the flame. Add rose water and cardamom powder. Keep aside to come
on room temperature.
Now place in serving bowl and keep in fridge to
chill for one hour. Garnish with almonds flakes and rose petals.