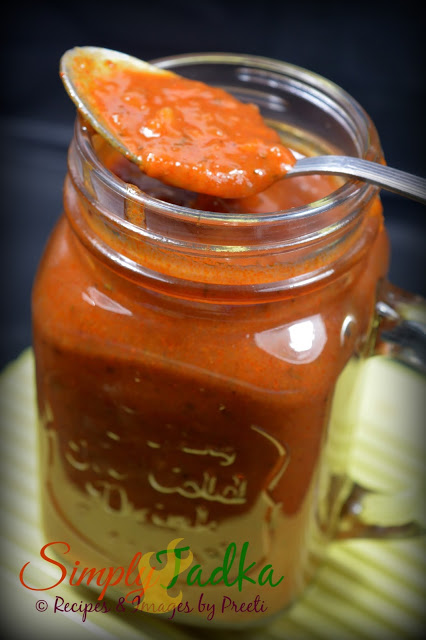 Last Updated on
When we
made sauces at home, the taste comes fabulous rather than store brought. This authentic
red color enchilada sauce makes tasty and delicious homemade baked enchiladas.
For this
authentic sauce, first we have to prepare roux for the base by using flour and
oil and then add spices and tomato paste till to thicker consistency. You can adjust the spice level according to
taste. Even you can store this sauce for further use in freeze.
It's delicious
and makes amazing cheesy enchiladas and also great topping on French fries.
Homemade Enchilada Sauce
| Sauce Recipes
Preparation Time: 5 Minutes
Cooking Time: 20 Minutes
Servings: 3 Cups
Category: Sauces / Spread
Cuisine: Mexican
Cooking Method: Boiling
Ingredients:
2 1/2
Cups Vegetable Broth
3/4 Cup
Tomato Puree
1 1/2
Tbsp All Purpose Flour
1 Tsp. Dried
Oregano
1/2
Tsp. Garlic Powder
1/2
Tsp. Cumin Powder
3
Tbsps. Red Chili Powder
Salt to
Taste
1/4
Tsp. Black Pepper Powder
3
Tbsps. Olive Oil
1 Tsp.
Sugar
Instructions:
Heat
the oil in a saucepan, add flour and whisk until mixture is smooth. Stir
continuously to avoid lumps.
Add
chili powder and cook for another one minute continuously. Add the mixture in
stock and whisk it.
Add all
ingredients in broth mixture and mix it gently.
Bring
this mixture to a boil, after one two boil then reduce the flame to low and
cook 15-20 minutes until sauce reach to thick consistency.
Adjust
the seasoning and serve.
How to Store
You can
store this sauce in airtight jar for 2 weeks, keep this sauce in freeze.
Notes:
You can
reduce the quantity of chili powder according to tastebuds.
For
vegetable broth, you have to cook 1 cube in 600ml water. You can use chicken
stock also.
Tags: how to make enchilada sauce
at home, homemade enchilada sauce, homemade sauce recipes, enchilada sauce
recipe, easy sauce recipes, tomato based sauces, tomato sauce, spicy sauce,
spreads, blogging marathon, simplytadka, sauces, Mexican sauce.
Enter your email address:
Delivered by FeedBurner