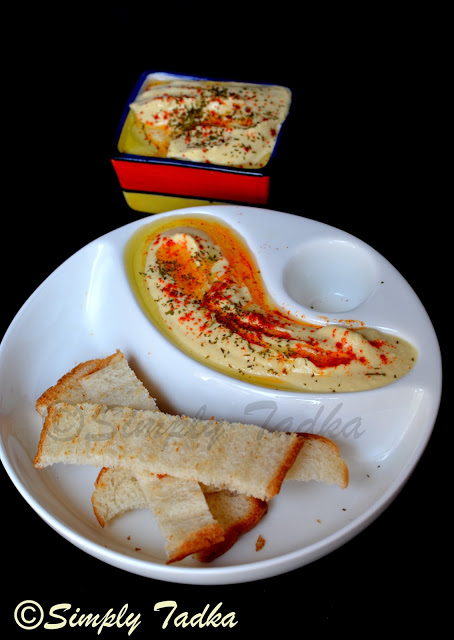 Last Updated on
Time to reveal 3rd theme of
blogging marathon i.e. International Condiments, where we have to choose worldwide
condiments, sauces, spreads and seasoning. This time I choose Hummus from Lebanese
Cuisine which made by boiled chickpeas and olive oil, garnish with olive oil
and paprika powder.  This fabulous dip
hummus is served with pita breads, lavash or chips. 
Love the flavor of sourness
which comes by adding fresh curd and lemon juice. You can store this spread or
dip in airtight jar. 
Today, it is popular throughout the Middle
East (including Turkey), North Africa (including Morocco), and in Middle Eastern cuisine around the globe.
Hummus- Homemade
Preparation Time:  20 Minutes
Cooking Time: 0 Minutes
Servings: 1 Cup
Category: Condiments
Cuisine: Lebanese Cuisine
Ingredients:
1
Cup Chickpeas or Kabuli Chana, Soaked and Boiled
3
Tbsp. Curd
1
Tsp. Garlic Powder
Salt
to taste
1
Tbsp. Lemon Juice
3
Tbsp. Olive Oil
For Garnishing
Olive
Oil
Red
Paprika Powder
Parsley
Powder
Instructions:
Combine boiled kabuli
chana, olive oil, salt, garlic, lemon juice and curd in a mixer and grind to a
smooth consistency.
Serve in plate and
sprinkle red paprika and parsley over it and pour little olive oil. Serve with
pita breads or lavash.
Tags:
how to make hummus, condiments, basic recipes, sauces, chickpeas recipes,
kabuli chana, olive oil, side dishes, blogging marathon, simplytadka, Lebanese
cuisine, international condiments, homemade hummus recipe, dip recipes.
Check out the Blogging Marathon page for the other Blogging Marathoners doing BM# 56
Enter your email address:
Delivered by FeedBurner