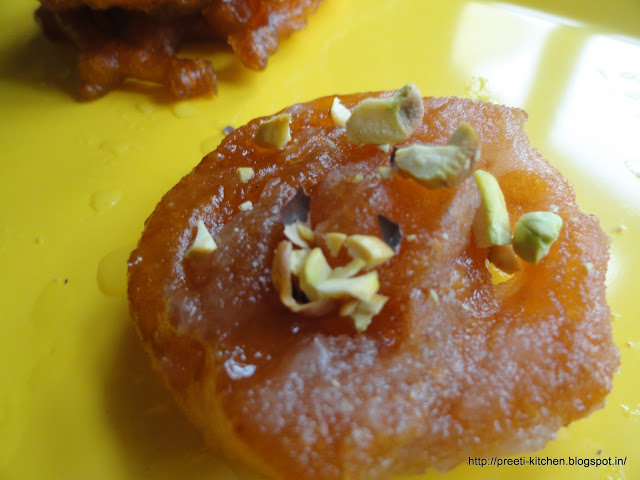 Last Updated on
Today I post Jalebi recipe spl. Instant Jalebi
recipe. We all know, when we will thought to cook Jalebi at home………we
need to fermentation or ferment means minimum 6-8 hours to wait for eating jalebi…….so
now no need to wait…….with this Instant Jalebi recipe.
In India Jalebi is served as the Celebration Sweet of India, popular during national holidays
like Independence Day and Republic Day, on which it is supplied
in government offices, defence facilities, and other organisations. Similarly,
Jalebi is one of the most popular sweets in Pakistan. It is used as a
remedy for headaches in some parts of Pakistan, where it is placed in boiling
milk and left to stand before eating. The sweets are served warm or
cold. They have a somewhat chewy texture with a crystallized sugary exterior
coating. Citric acid or lime juice is sometimes added to the syrup,
as well as rosewater or other flavours such as kewra water.
(From Wikipedia)
1 1/2 cup refined flour/ maida/ all-purpose flour
1/2 tsp. soda bi carbonate/ meetha soda
1/2 tsp. Eno
Ghee for deep frying
1 pinch of food color (orange or yellow)
For sugar syrup:
2 1/2 cup sugar
2 cup water
1/2 tsp. green cardamom powder
Method
In a large bowl, whisk
refined flour and sufficient water to a smooth and pouring consistency batter.
Mix a pinch of color in ½ tsp.
water. Beat the batter with adding 3-4 drops of color mixture, meetha soda and
eno for 2 minutes.
Cook sugar with 2 cups
water in a deep pan on high heat, stirring continuously, till the sugar
dissolves. Add cardamom powder and cook, till the syrup become one string
consistency. Keep the syrup warm.
Heat the sufficient ghee in
a flat wok on medium heat. Pour batter onto a jalebi cloth or piping beg (as
pic shown) gather the edges and make a tight potli.
Squeeze round spirals into
the hot ghee and deep fry, turning them over gently a few times, till they are
evenly golden and crisp.
Drain and soak in sugar
syrup for 2-3 minutes. Take them out of the syrup and serve hot and instant
made jalebi.
Note: Add Eno on the spot when you pouring batter onto cloth or beg. You
can use saffron also instead of color.
submit this recipe with 
Blogging Marathon page for the other Blogging Marathoners doing BM#14