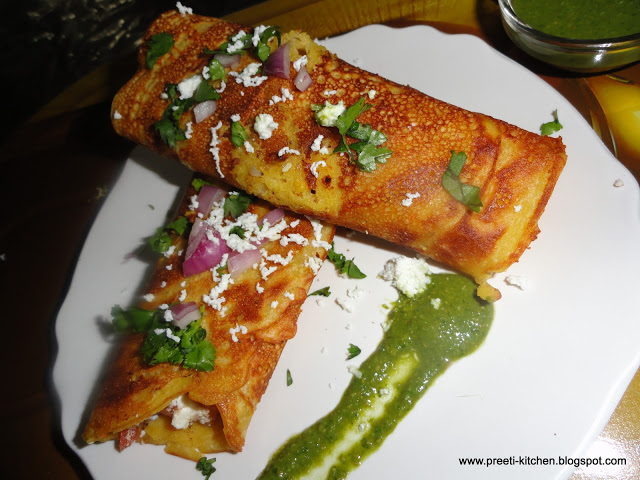 Last Updated on
Today I post under
street food category for blogging marathon in paneer theme. Instant paneer
chilla, it's an instant and quick recipe in which batter prepared with rice and
gram flour and stuffing makes with paneer, onion, tomatoes. Its crispy and soo
tasty.
Ingredients
1/4 cup rice flour
1 cup gram flour
1/2 cup milk
1/4 tsp. meetha soda
or soda bi carbonate
Salt to taste
1 cup cottage cheese
1 medium sized onion
1 medium sized
tomato
1 green chilies
Chopped fresh
coriander
1/4 tsp. carom seeds
1 tsp. red chilies
powder
1/4 tsp. chaat
masala
Pure desi ghee
Method
For stuffing
In a bowl, add crumbled cottage cheese, fine chopped onion, fine chopped tomato,  chopped green chillies, chopped fresh coriander, salt, red chilies
powder and mix well.
For batter
In a bowl, add rice
flour, gram flour, salt, red chilies powder, carom seeds, meetha soda.
Now add milk slowly
for making smooth batter if batter still thick, add little water so that there
should be no lumps in it.
Add water till
it comes to a dropping consistency or just like dosa batter. Now keep it aside.
Heat the non-stick-
tawa, then turn the heat on medium. Put little ghee on tawa & spread 1
tbsp. of batter evenly on it.
Put some more oil on
the top & turn it upside down, so that it should cook inside also.
Let it be golden and
crispy from both sides. Now add 1 tbsp. stuffing on the chilla and fold it.
Repeat the same with
rest of the batter.
Serve hot with green
chutney.
 Picture Gallery
submit this recipe with following events as under:
Blogging Marathon page for the other Blogging Marathoners doing BM#12