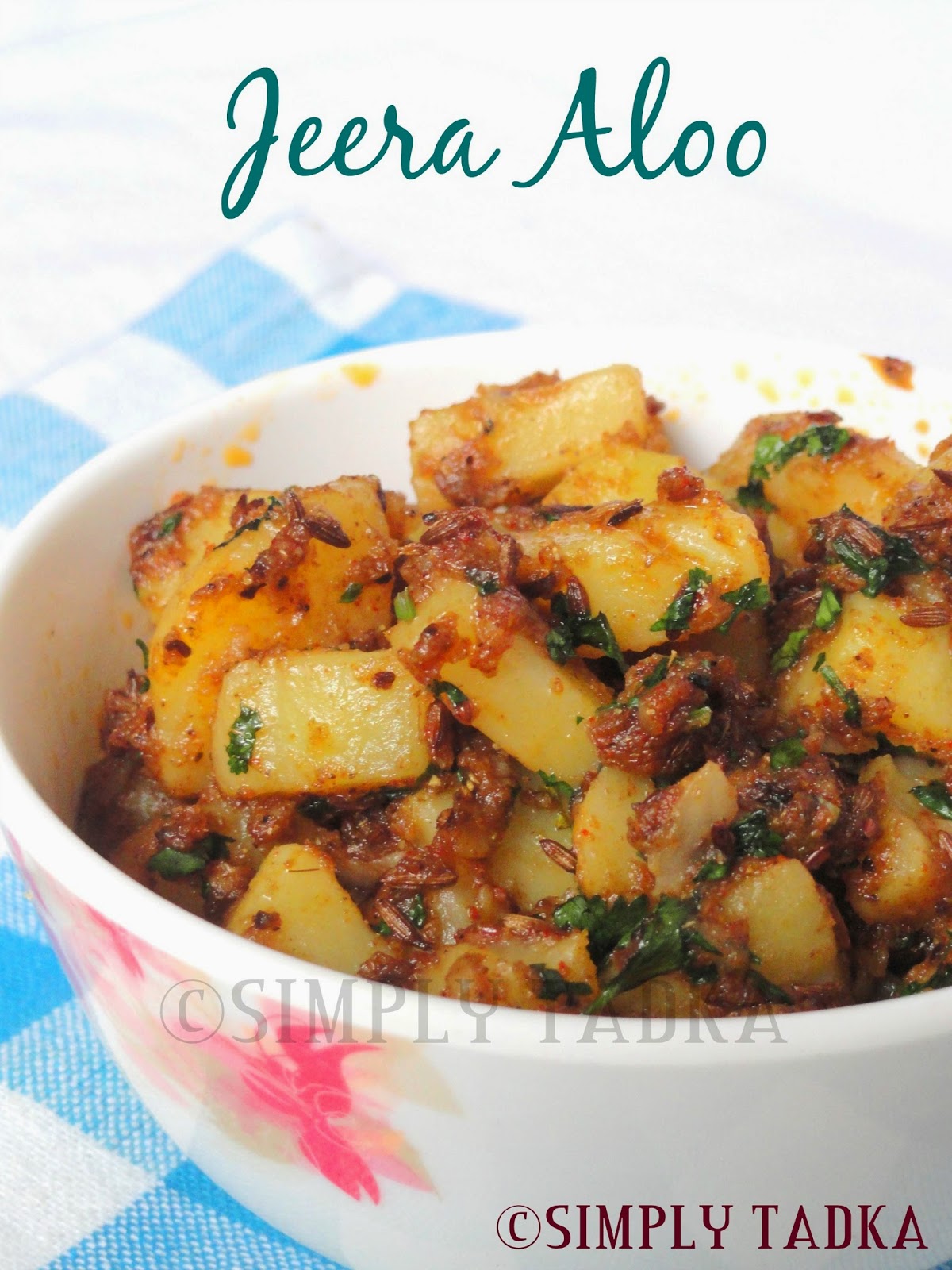 Last Updated on
Jeera aloo is one of the easiest recipes in
Punjabi cuisine and loved by everyone, it's a perfect meal for lunchbox and you
can eat anytime as side dish with chapatti or parathas. I love the combination
of jeera aloo and curd with phulkas. In this year 2015, I decided to take a
theme every month and cook seven easy and vegetarian recipes for homemakers and
next will be share collection of recipes, which we shared with readers with
some nutrition values. If anyone interested in this concept you can drop a mail
on my email id. Theme can be any technique, ingredients, cuisine or anything
else. 
Preparation
Time: 15 minutes
Cooking
Time: 15 minutes
Servings: 4
Category:
Main Course
Ingredients:
4 Large Sized Potatoes, boiled and cubed
2 Tsp. Cumin Seeds
1 Green Chili, finely chopped
Salt to taste
1/2 Tsp. Roasted cumin powder
1 Tsp. Red chili powder
1 Tbsp. Coriander Powder
1 Tsp. Raw mango powder
4 Tbsp. Oil
Fresh Coriander Leaves, chopped
Instructions:
Wash and boiled the potatoes and cut into
cubed form. 
Heat the oil in wok and add cumin seeds when they starts crack. 
Add
green chili and chopped potatoes. 
Add red chili powder, roasted cumin, amchoor,
salt, coriander powder and stir continuously till to spice covers all cubes
well.  
Add fresh chopped coriander and
serve hot with paranthas or chapatti.
Tags:
How to prepare aloo jeera, jeera aloo recipe, alu recipes, cumin recipes, aloo
recipes, potatoes recipes, north indian recipes, Punjabi recipes, main course
recipes, lunch and dinner meals, lunchbox recipes, kids recipes, vegetable
recipes, simple recipes, easyto cookrecipes, simplytadka recipes, indian
cooking, jeera alu recipe.
Enter your email address:
Delivered by FeedBurner