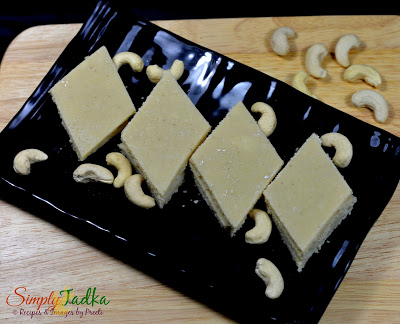 Last Updated on
Kaju Katli is one of popular Indian sweet in festivals or wedding
occasion. This time I prepared kaju katli for vegan sweet theme where Milk and
milk products not used in recipe. If you want more creamy texture then add milk
powder during cooking with cashew powder.
You can serve these awesome and tempting sweets during holi or diwali. When
you grinding cashews to make powder, always take in small portion and grind it
slowly, otherwise cashew starts releasing oil which makes powder moist.
You can garnish kaju katli with silver varq as shop brought, personally
not prefer because it's harmful for health.
Kaju Katli | Kaju Barfi | Cashew Fudge
Preparation Time: 10 Minutes
Cooking Time: 10 Minutes
Servings: 1 Cup
Category: Sweets
Cuisine: Indian
Cooking Method: Roasted
Ingredients
1 1/2 Cups Cashew Powder
6 Tbsps. Sugar
1/2 Tsp. Cardamom Powder
6 Tbsps. Water
Ghee or Oil for Greasing

Instructions:
Take small portions of cashews in mixer and grind them till to powder.
Sieve the cashew powder with cardamom powder in separate bowl.
Now heat the water and sugar together in non-stick pan till to dissolve.
Check the sugar syrup consistency, need one string consistency. Switch
off the flame.
Add cashew powder and mix it gently to avoid lumps.
When dough is cool down, roll it using rolling pin.
Garnish with silver foil if you want, cut it into diamond or square
shape. Enjoy.
Notes: Take cashews in small
portions for grinding otherwise starts releasing oil.
Tags: how to make kaju katli,
kaju recipes, blogging marathon, simplytadka, food blogging, food photography,
vegan, barfi, sweets, indian sweets, diwali, festival recipes, fudge, cashew,
instantrecipe, simple recipe, holi, burfi.
Check out the Blogging Marathon page for the other Blogging Marathoners doing this BM#74