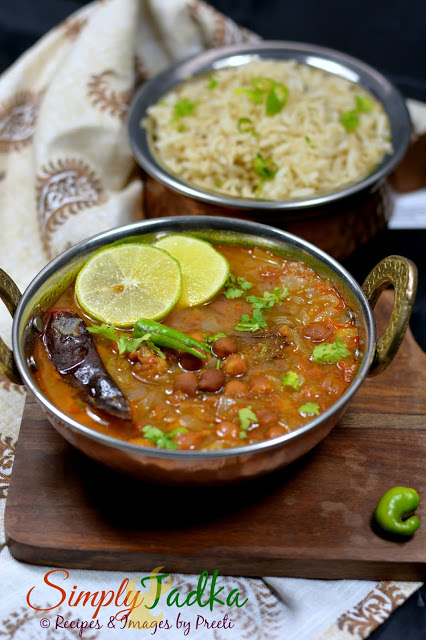 Last Updated on
Chickpea or chaana
is very protein rich legume which used world wide. You can serve chickpeas in
any form salad to curry and dip to rice. You can made delicious curry with
black chickpeas to serve along with rice or roti. I generally made jeera rice
with black chickpea curry but this time I tried jeera brown rice to make my
meal more nutritious.
You can add canned
or boiled kala chana to salads to increase the protein and fiber content. Kala
chana curry is a spicy Indian stew that uses kala chana, oil, tomatoes and
other spices, such as ginger, red chili powder and coriander.
A cup of boiled
kala chana contains 269 calories. It has 4 grams of total fat, with less than
1/2 gram of cholesterol-raising saturated fat. Beans are good plant-based sources
of protein, and 1 cup of kala chana contains 15 grams of protein, or 30 percent
of the daily value based on a 2,000-calorie diet.
Each cup of kala
chana provides 13 grams of dietary fiber. Kala chana and other types of beans,
lentils, fruits, vegetables and whole grains are good sources of fiber.
Kala Chana Masala | Black Chickpea
Curry with Jeera Brown Rice
Preparation Time: 15 Minutes
Cooking Time: 35 Minutes
Servings: 4
Category: Main Dish
Cuisine: Punjabi
Cooking Method: Pressure Cooker
Ingredients
2 Cups Black Chickpeas
4 Large Tomatoes,
Diced
2 Large Onion,
Finely Chopped
1 Tbsp. Ginger, Chopped
1 Tbsp. Garlic,
Chopped
2 Green Chilies,
Finely Chopped
3 Tbsps. Oil
Salt to Taste
Pepper Powder to
Taste
Red Chili Powder
to Taste
1 Tsp. Coriander
Powder
1/2 Tsp. Garam
Masala
1 Tsp. Cumin Seeds
1/4 Tsp.
Asafoetida
2 Bay Leaf
2-3 Cloves
2 Black Cardamom
1 Tsp. Raw Mango
Powder
Handful Fresh
Coriander, Garnishing
Lemon Wedges For
Garnishing
For Jeera Brown Rice
1 Cup Brown Rice
2 Tsp. Cumin Seeds
2 Bay Leaves
4-5 Cloves
1 Tbsp. Olive Oil
Salt to Taste
2 1/2 Cups Water
Instructions:
Wash and soak the
black chickpeas or chana in water for 7-8 hours or overnight. Drain the water
and rinse in fresh water.
Pour the chanas in
pressure cooker with water and salt.
Now cook the chana
in pressure cooker on high flame till to first whistle, after first whistle
reduce the heat to low and cook around 30 minutes till to soft.
Now grind ginger,
green chilies and tomatoes together in mixer to make smooth paste.
Heat the oil in deep
pan, add cumin seeds, bay leaf, cloves, cardamoms and Asafoetida.
When they starts
splutter, add chopped garlic and onions and saute till to translucent.
Add tomato puree,
red chili powder, coriander powder, black pepper, garam masala, raw mango
powder and cook till to oil starts releasing.
Add cooked chana
with water and cover the pan and cook for 10 minutes on low flame.
Add fresh chopped
coriander and serve hot with jeera rice.
Wash and soak the
rice in water for 30 minutes at least.
Now heat the oil
in pan, add cumin seeds, bay leaf and cloves.
Add water and rice
together with salt.
Cover the pan and
cook till to water absorbs or rice cooked.
Remove from the
heat and serve jeera brown rice with cooked black chickpea curry.
Tags: how to cook kala chana curry, black
chickpea curry, masala kala chana recipe, chane chawal, brown rice recipe,
jeera rice recipe, kala chana masala, Punjabi kale chane curry, main dish, main
course, vegetarian, protein rich, iron rich, simplytadka, food blogging,
blogging marathon, gravies, Indian curry, Punjabi cuisine, everyday meal,
lunchbox ideas, lunch menu, medium level recipe, pressure cooker recipe,
boiling recipe, dal recipe.
Did you make this recipe?
If yes, do let us
know how it turned out in the comments below. Do share a picture with us
simplytadka@gmail.com  or share on Instagram with hashtag #simplytadkarecipes
and tag us @simplytadka
Check out the Blogging Marathon page for the other Blogging Marathoners doing BM# 80