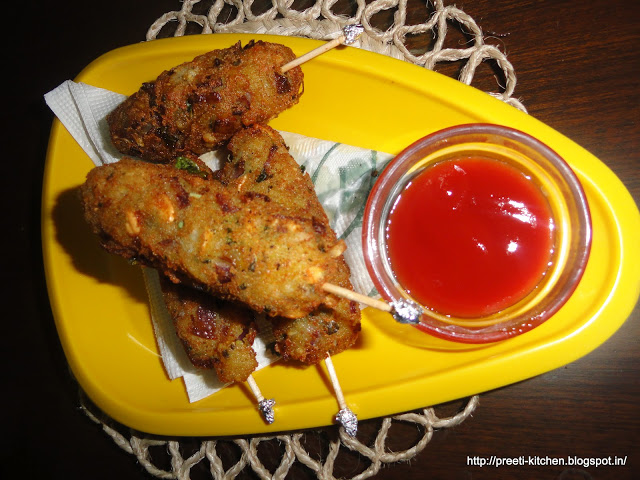 Last Updated on
Today I post my recipe for BM#13 under Kebab Theme…… my recipe name is "KASURI
ALOO KEBAB"………
Under this recipe ….we mash potatoes and rice flakes with some more
ingredients and spices and mix well and grill this kebab or fry them….
From
the point of nutrition value…..there are 98 calories in one cup of rice flakes….
Calories breakdown into 3% fat, 90% carbo and 7% proteins.
Ingredients
2 med. Boiled potatoes
2 tbsp. rice flakes
(chivda)
2 small onions (chopped)
2 green chillies (chopped)
1 tbsp. kasuri methi
1 tsp. chopped cashew
5-6 raisins
1 tsp. coriander powder
¼ tsp. turmeric powder
½ tsp. garam masala
Salt to taste
Chaat masala
¼ tsp. black pepper powder
½ tsp. red chillies powder
Tomato ketchup
Method
Mash the potatoes in large
bowl and add chopped onions, green chillies, chopped cashew, raisins, spices,
kasuri methi, and rice flakes (wash and drain from water). Mix well and give
the shape of kebab. Heat the oil in the deep vessel, when oil is hot enough…..fry
this kebab if u r calorie conscious then grill this kebab on grill pan……………. Serve
kasuri Aloo kebab with chutney…… in chilled winter days…… 
Blogging Marathon page for the other Blogging Marathoners doing BM#13