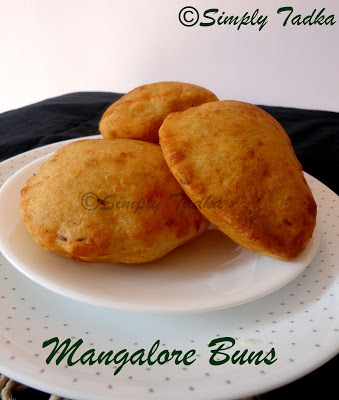 Last Updated on
Now time to reveal next theme of Blogging Marathon # 56 i.e. Indian State Cuisine. Here we have to choose 6 different states of India and cook regional recipes.
For the 1st day of Indian state
theme, I made Mangalorean Buns or sweet banana pooris from Mangalore cuisine. Mangalore
buns are fried sweet snack which served with coconut dip and cup of tea. For
this recipe, you have to knead dough with mashed banana, curd and sugar with
flavor of cardamom and pepper. I love these recipe especially fluffy buns which
complement with tea or coffee as evening snack.
Personally I prefer to serve these sweet buns
with spicy curry. Srivalli already shared this recipe under ICC event where I was
not get time to share this recipe. But now again I got an accurate time to show
my Mangalore buns recipe.
Preparation Time: 10 Minutes
Cooking Time: 30 Minutes
Rest Time: 4 Hours
Servings: 4
Category: Indian Flatbread
Cuisine: Karnataka Cuisine
Ingredients:
1 1/2 Cup Whole Wheat Flour
1 Medium Sized Ripe Banana
3-4 Tbsp. Curd
2-3 Tbsp. Sugar
1/2 Tsp. Cardamom Powder
Pinch of Baking Soda
2 Tsp. Oil
Oil, for deep frying
Instructions:
Peel and Chop the banana into pieces and mash with sugar and pinch of cardamom powder till to smooth consistency. Add the curd and mix it gently. Alternately, You can add chopped banana, cardamom powder, sugar and curd together in blender and prepare smooth paste.
Sieve the flour with baking soda and keep aside. Gently mix the flour, baking soda with banana puree and prepare semi soft dough, do not use water while mixing, the moisture from the banana and curd is enough to bind the dough, would loosen up a bit after fermentation process.Now add the oil and gently knead the dough for 2-3 mins.Cover and leave it aside for 4-5 hrs.
Heat oil in a deep flat wok and let it become hot.If you put a small pinch of dough it should raise to the top immediately,which indicated the oil is hot and ready for deep frying.
Slightly knead the dough and divide the dough into 8-9 big lemon sized portions.
Roll each portion into a 3-4″ diameter thick disc,it should be thicker than the regular poori. You can use or grease with oil if needed.
Gently slide the rolled discs(pooris) into the hot oil and after few seconds try to press the middle portion of the disc gently with a slotted spoon,which helps to fluff up the bun(poori) nicely.
Turn to the other side and fry until brown.These buns usually turn to dark brown in color very quickly,you can remove them when they are puffed up and light brown in color.
Remove the buns on kitchen papers and do same with rest material. Serve them hot with spicy coconut chutney and a cup of tea/coffee.
Notes: Traditionally, Mangalore Buns are prepared with all purpose flour, but you can use whole wheat flour or mix of both flour in same ratio whatever you like.
You can add black pepper powder to gives spicy taste, you can use cardamom powder which gives extra flavor to banana flavor. You can adjust the level of sugar as per taste or ripeness of banana.
You can serve this buns with coconut chutney or coriander chutney which gives complement to this snack with tea or coffee.
Do not add water to the batter,the moisture from banana mixture and curd is enough to bind the dough.
Tags: how to cook mangalore buns, Mangalore buns recipes, banana poris, Banana buns, Indian flatbread recipes, Karnataka Cuisine, Mangalore Cuisine, Sweet banana pooris, how to prepare mangalore pooris, mangalore banana pooris, Mangalore banana buns, banana recipes, ICC Series
Check out the Blogging Marathon page for the other Blogging Marathoners doing BM# 56
Enter your email address:
Delivered by FeedBurner