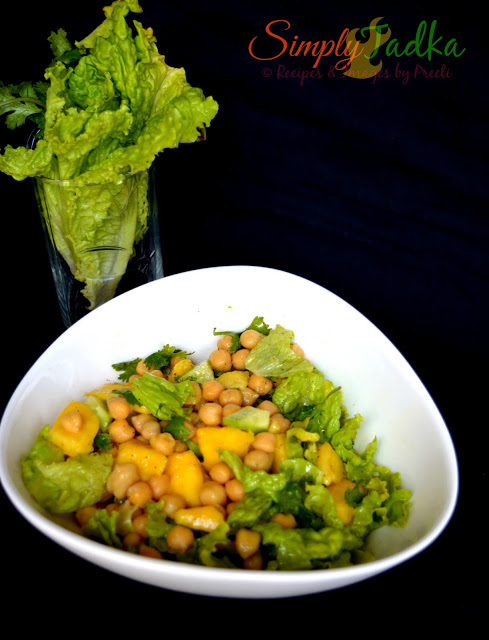 Last Updated on
Mango chickpea is a delicious and healthy summer salad. You can serve this salad anytime or with dinner meal. You can add roasted nuts also like walnuts, almonds or pumpkin seeds for nutty texture. I added onion and cucumber also to get crunchy texture.
For this salad, I used simple and tasty citrus vinaigrette which is very light and simple to make. Just need few seconds, mix olive oil and lemon juice with salt and pepper, and your dressing is ready to use further.
Mango Chickpea Salad | Summer Salad
Preparation Time: 10 Minutes
Cooking Time: No
Servings: 4
Category: Salad
Cuisine: Healthy
Cooking Method: Boiling
Ingredients
1 Cup Boiled White Chickpeas
1 Cup Mango, Cubed
1 Cup Cucumber, Peeled and Cubed
1/2Cup Onion, Chopped
1 Cup Lettuce, Chopped
For Dressing
2 Tbsps. Lemon Juice
2 Tbsps. Olive Oil
Salt to Taste
Pepper Powder to Taste
Chaat Masala to Taste
Instructions
Combine mango, lettuce, cucumber, onion and chickpeas in one large bowl.
Combine dressing ingredients in small bowl. Combine both together and mix well.
Cover with cling film and keep in freeze till to serve. Serve chilled.
Tags: how to make chickpea and mango salad, summer salad, salad recipe, healthy recipe, no cooking, vegan, vegetarian, simplytadka, chickpeas, mango, onion, cucumber, protein, chilled salad, side dish, chickpea salad, mango salad.
Did you make this recipe?
If yes, do let us know how it turned out in the comments below.
Do share a picture with us simplytadka@gmail.com or share on Instagram with hashtag #simplytadkarecipes and tag us @simplytadka
Check out the Blogging Marathon page for the other Blogging Marathoners doing BM# 80
Enter your email address:
Delivered by FeedBurner