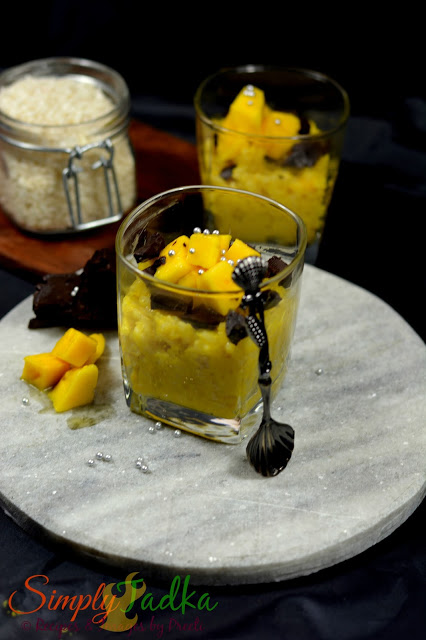 Last Updated on
Rice Pudding can be serving warm or chilled, personally i prefer chilled
either it is kheer or any other kind of pudding. 
This pudding i made for Blogging Marathon under No Bake
Dessert theme, Mango Coconut Rice Pudding. Mangoes give the amazing texture
plus enhance the taste of classic rice pudding. This time market is full on
with seasonal mangoes, you can get lots of variety in mangoes. Kesar mango is
perfect choice for this pudding because of color and sweetness. 

I used Arborio Italian rice for this pudding which gives
creamy texture. If Arborio rice is not available then you can use normal rice.
At last garnish with chopped mangoes and chocolate, adding chocolate is
optional, only for extra color and topping. You can use white chocolate also or
roasted nuts.

Mango Coconut Rice Pudding – No Bake Dessert

Preparation Time: 5
Minutes
Cooking Time: 25 Minutes
Servings: 3 
Category: Dessert
Cuisine: Fusion 
Cooking Method: Stove, Freezing

Ingredients 

2 Ripe Mangoes, Peeled and Diced
1 Cup Arborio Rice
1 Tsp. Olive Oil
2 Cups Coconut Milk
2 Cups Water
3 Tbsps Brown Sugar
1/4 Tsp. Cinnamon Powder
Few Drops of Vanilla Essence
Dark Chocolate Chunks, for garnishing
Mango chunks for garnishing

Instructions



Boil the water in thick bottom pan, add oil and rice together
and cover it. Cook for 15 minutes or till to water absorbs on low flame.

Add coconut milk, vanilla essence, sugar, cinnamon and mix
it. Cover and Cook for 5 minutes. 

Clean and peel the mangoes and cut into diced. Blend the 3/4
mangoes into mixer till to smooth consistency.

Add the mango pulp, mix it and again cook until water has
been absorbed but not hard.

It should be creamy and glossy. 

Switchoff the gas and keep it on room temperature.

Serve in individual bowl and garnish with mango and chocolate
chunks. Enjoy!



Notes: Adjust the sugar quantity as per mango sweetness.
You can use normal milk or almond milk.
You can add roasted nuts as topping.
You can use any quality of rice but only arborio rice gives creamy
texture to this pudding. 
It's best to use a heavy-bottomed saucepan. You will not be able to stir
the rice much as it cooks, and thin pans are more likely to burn the sitting
rice. You can serve pudding warm, room temperature or Chilled. 



Tags: how to make mango coconut rice pudding, pudding, dessert, fusion,
coconut, coconut milk recipes, vegan, mango, summer, rice, arborio rice, creamy
pudding, chocolate, simplytadka, foodblogging, bloggingmarathon, no bake
dessert, no bake recipes, one pot meal, kids friendly, healthy meal.
Did you make this recipe?
If yes, do let us know how it turned out in the comments
below.
Do share a picture with us simplytadka@gmail.com  
or
share on Instagram with hashtag #simplytadkarecipes and tag us @simplytadka.
 Check out the Blogging Marathon page for the other Blogging Marathoners doing this BM#78
Enter your email address:
Delivered by FeedBurner