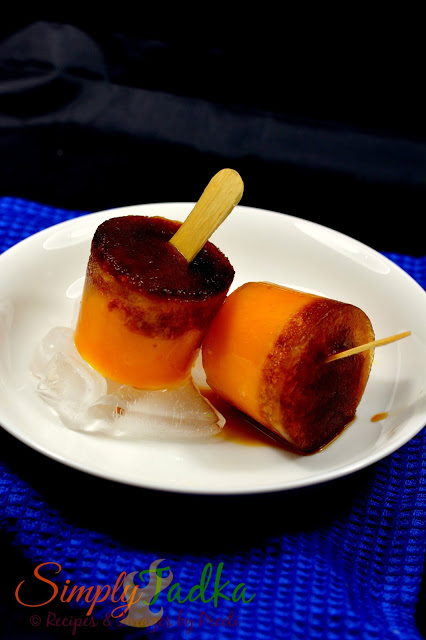 Last Updated on
Mango Cola
Ice candy is one of mine favorite recipe which I made at home when I remembered
my childhood candy memories which was available outside of school. Most of
time, when I brought tang at home, always prepare in thick consistency and
freeze it. The taste of tang becomes slurry and amazing like chuski. So next time
def. try this version also and share with us.
Mango Cola Ice Pops | Frozen
Recipes
Preparation Time: 6 hours
Cooking Time: 0
Servings: 4
Category: Frozen
Cuisine: Fusion
Cooking Method: Freezing
Ingredients
2 Cups Mango
Tang
1 Cup Cola
Drink
Instructions
Prepare
Mango tang in thick consistency. (500gm T +2 liter W)
Fill the
Tang into ice-cream molds half and keep in freezer to set. Add the ice-cream
sticks in between.
Now add cola
over frozen tang and again keep in freezer till set.
Enjoy
Chilled Mango Cola Pops.
Notes: You can use fresh mango pulp also. You can use disposal cups to
freeze the pops.
Tags: how to make mango cola pops, ice pops, popsicles, ice candy,
frozen, blogging marathon, mango, cola, simplytadka, dessert, kids friendly,
summer, kulfis, chuski.
Did you make this recipe?
If yes, do let us know how it turned out in the comments below.
Do share a picture with us
simplytadka@gmail.com
or share on Instagram with hashtag #simplytadkarecipes and tag us @simplytadka.

Check out the Blogging Marathon page for the other Blogging Marathoners doing this BM#78