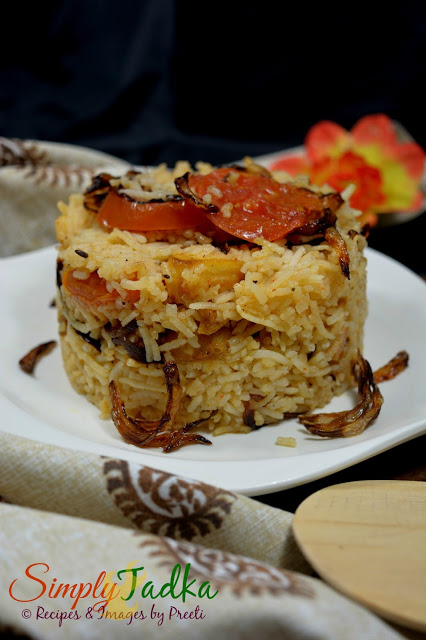 Last Updated on
Mashkool rice recipe is Lebanese cuisine which made
with cooked rice tossed with fried potatoes, onion, tomatoes and spices.
To make every meal more delicious and tasty, we
used special spices while cooking, like pav bhaji masala, chana masala, sambhar
masala, bisi bele bhath masala and more.
Baharat masala is used in Lebanese cuisine to make
more flavorful and aromatic. You can prepare baharat masala at home by grinding
peppercorns, cloves, chilies, coriander seeds, cumin, ginger powder, cardamom
and cinnamon in fine powder form.
Mashkool
Rice | Lebanese Cuisine
Preparation
Time: 10 Minutes
Cooking
Time: 30 Minutes
Servings: 2
Category: Rice
Cuisine:
Lebanese
Cooking Method:
Frying
Recipe Source:
Tarla Dalal
Ingredients
1/2 Cup Basmati Rice
1/2 Cup Onion, Sliced
1/2 Cup Potato, Sliced
1/2 Cup Tomato, Sliced
1 Tsp. Baharat Powder
Salt to Taste
1 Tbsp. Rose Water
2 Tbsps. Milk
2 Tbsp. Ghee
1/2 Tsp. Cumin Seeds
1 Cup Oil, for Frying
For Baharat Powder
1/2 Tsp. Cumin Seeds
1/2 Tsp. Coriander Seeds
4-5 Cloves
5-6 Black Peppercorns
2-3 Dry Red Chilies
1 Cinnamon Sticks
1/2 Tsp. Ginger Powder
1/2 Tsp. Cardamom Powder
Instructions
For Baharat Powder
Dry roast the black peppercorns, cloves, cumin,
coriander seeds, red chilies, cinnamon and grind it till to fine powder. Add
ginger powder, cardamom powder and mix it. Now baharat powder is ready to
use.
Heat the oil in deep bottom pan, add potatoes and
fry them on a medium flame till to golden and crisp. Drain and keep aside.
Again deep fry the sliced onion till to golden
drain and keep aside.
Now grill the tomato slices in a pan with little
oil for two minutes on medium flame and keep aside.
Boil the water in separate saucepan, add washed and
soaked rice in boiled water till to cooked. Drain and keep aside.
Heat the ghee in a non-stick pan, add cumin seeds.
When they start splutter, add rice, onion, potato, tomato, milk, rose water,
salt and baharat powder and mix gently.
Serve hot rice with chickpea curry or curd.
Tags: how to make
mashkool rice, rice recipes, Lebanese recipes, maincourse, lunchbox recipes,
lunch meals, healthy meal, fried onion recipe, baharat spices, simplytadka,
foodblogging, bloggingmarathon, fried potatoes, international recipes.
Did you make this
recipe?
If yes, do let us know how it turned out in the
comments below.
#simplytadkarecipes and tag us @simplytadka

Check out the Blogging Marathon page for the other Blogging Marathoners doing this BM#78
Enter your email address:
Delivered by FeedBurner