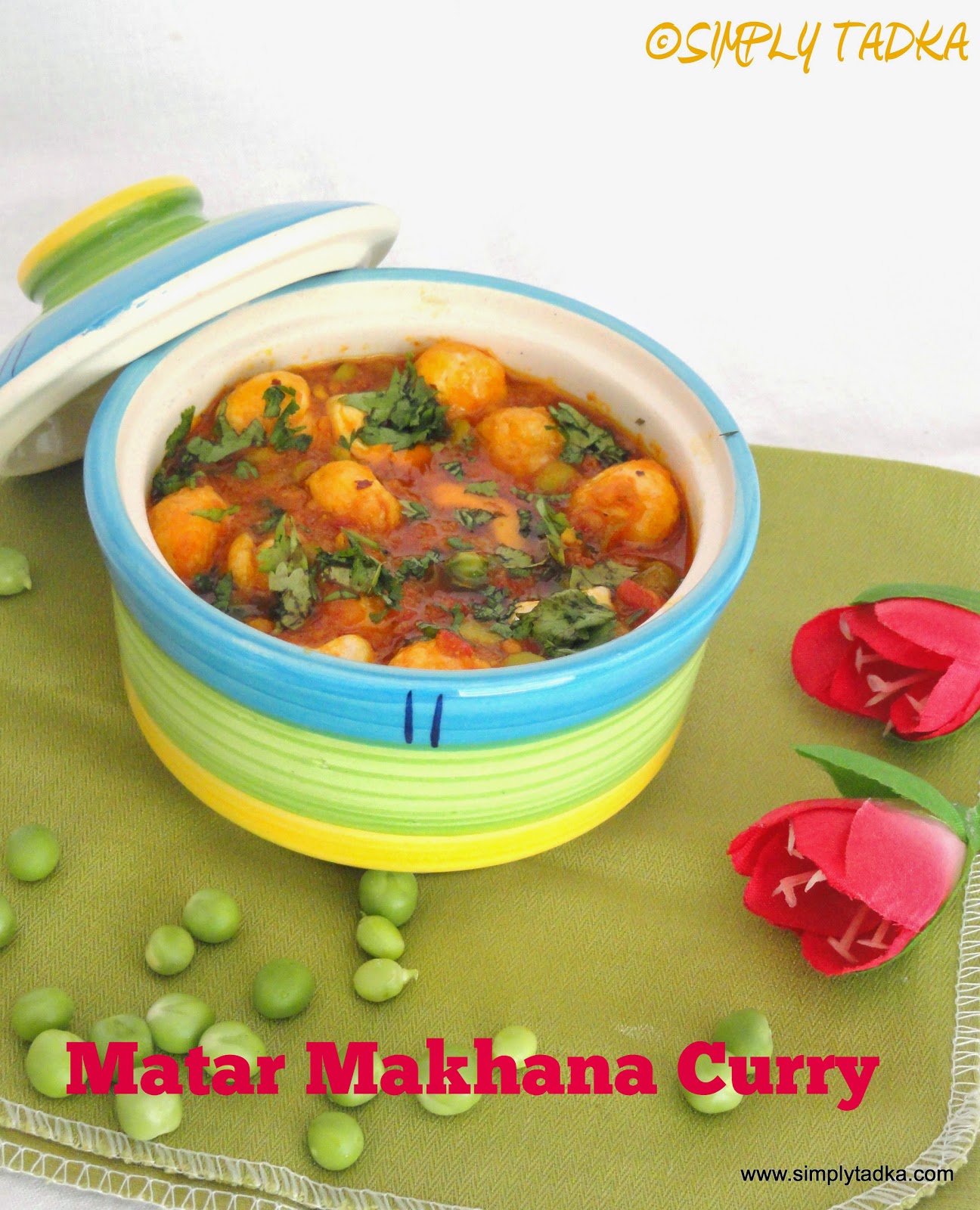 Last Updated on
Matar Makhana is rich and creamy gravy which prepared with puffed lotus
seeds and green peas in gravy of tomatoes and onions. For this recipe, you can
fry the phool makhana and peas in oil which enhance the taste. You can serve
this gravy with Indian breads like naan, paratha and puris. For thick gravy,
you can add khoya or cream which gives royal texture to this gravy. This time I
choose cooking with alphabet theme, for this I cooked M for Matar Makhana
curry.
Preparation
Time: 15 Minutes
Cooking
Time: 20 Minutes
Servings: 4
Category:
Gravies
Ingredients:
1 Cup Phool Makhana
1 Cup Green Peas
3 Medium Sized Tomatoes, Diced
2 Small Onions, Diced
2 Green Chilies, Chopped
1 Tsp. Ginger, Grated
12 Cashews, Halves
4 Tbsp. Canola Oil
1 Tsp. Cumin Seeds
Pinch of Asafoetida
1/2 Tsp. Turmeric Powder
2 Tsp. Coriander Powder
Salt to taste
1 Tsp. Red Chili Powder
1/4 Tsp. Garam Masala
Green Coriander Leaves, for garnishing
Instructions:
Prepare ground paste of tomatoes, onion,
green chilies and half cashews in grinder.
Heat the oil in deep kadai. When oil is hot
enough, fry the phool makhana and remaining cashews till to golden. Drain them
on kitchen towel to remove excess oil and keep aside.
Add cumin seeds and ginger in same oil and sauté
for 1 minute.
When cumin starts splutter, add peas, ground
paste, turmeric powder, coriander powder and red chili powder. Sauté till to
oil comes on the top of gravy.
Add fried cashews, phool makhana and salt,
and mix well. Add water or cream to adjust the thickness of gravy.
Add green coriander and garam masala for
garnishing. Serve hot gravy with Indian bread.
Notes: if gravy consistency is thin, then add
bread crumbs.
Tags
:
how to prepare matar makhana gravy, matar makhana curry, Punjabi recipes, main
course recipes, gravies, vegetable recipes, lunch and dinner meals, phool
makhana recipes, peas recipes, easy recipes, party recipes, how to made matar
makhana at home, matar makhana recipes.
Blogging Marathon page for the other Blogging Marathoners doing BM#41
Enter your email address:
Delivered by FeedBurner