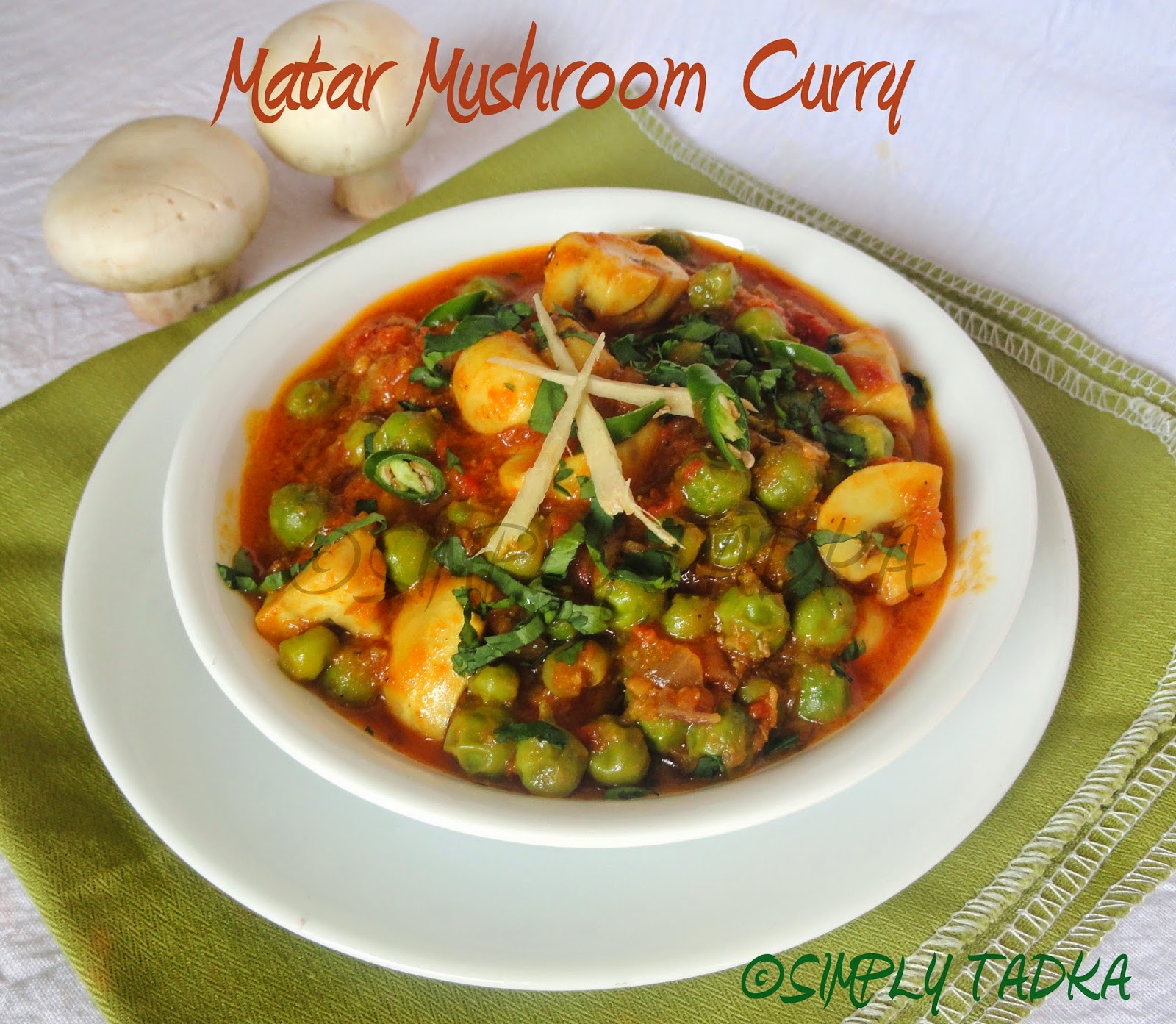 Last Updated on
Matar Mushroom recipe is very popular and
healthy Punjabi main-course recipe which available in every Punjabi dhabas or
restaurants. It's a combination of two main ingredients mushrooms and green peas
which cooked in onion tomatoes based gravy.
You can serve this curry with rice, naan or chapati and garnished with
fresh cream and green coriander leaves. For healthy version, I used par boiled
green peas instead of fried peas. As Punjabi cuisines, curries are fully creamy
and buttery. So you can fry the green peas along with mushroom in same oil.
Preparation
Time: 15 Minutes
Cooking
Time: 20 Minutes
Servings:
4
Category:
Punjabi Cuisine
Ingredients:
2 Cups Mushroom, fresh and halves
1 Cup Green Peas, half boiled
3 Tomatoes Puree, Medium Sized
2 Onions, Chopped
2 Green Chilies Paste
1 Tsp. Ginger Paste
1 Tsp. Cumin Powder
Salt to taste
2 Tsp. Coriander Powder
1/2 Tsp. Turmeric Powder
1/2 Tsp. Red Chili Powder
1/2 Tsp. Garam Masala
5 Tbsp. Vegetable Oil for shallow frying
Green Coriander, for garnishing
Ginger Juliennes, for garnishing
Instructions:
Wash and chop the mushroom into halves.
Heat the sufficient oil in kadai on
medium flame and fry in hot oil until to golden color appears.
Remove the fried mushroom in to separate
plate and keep aside.
In same oil, add cumin seeds. When they
start crackle, add chopped onion and ginger chili paste and sauté until to
golden brown.
Add tomatoes paste and sauté until the
tomatoes are soft.
Add coriander powder, chili powder, and
turmeric powder and garam masala and cook until the oil comes on the top.
Add fried mushroom, half boiled peas and
salt and cook until to tender. Add 1/4 Cup water if needed to adjust thickness.
Garnish with green coriander and lemon
juice. Matar Mushroom curry is ready to serve with chapati or parathas.
Notes:

You can add fenugreek leaves also for
garnishing or enhance the taste.
For thickness, you can grind the few
cashews with tomatoes.
Tags: how to prepare matar mushroom, mashroom recipe, Punjabi
recipes, Punjabi cuisines, matar recipes, pea's recipes, dinner and lunch
recipes, main course, gravies, how to make matar mushroom curry at home.
Enter your email address:
Delivered by FeedBurner