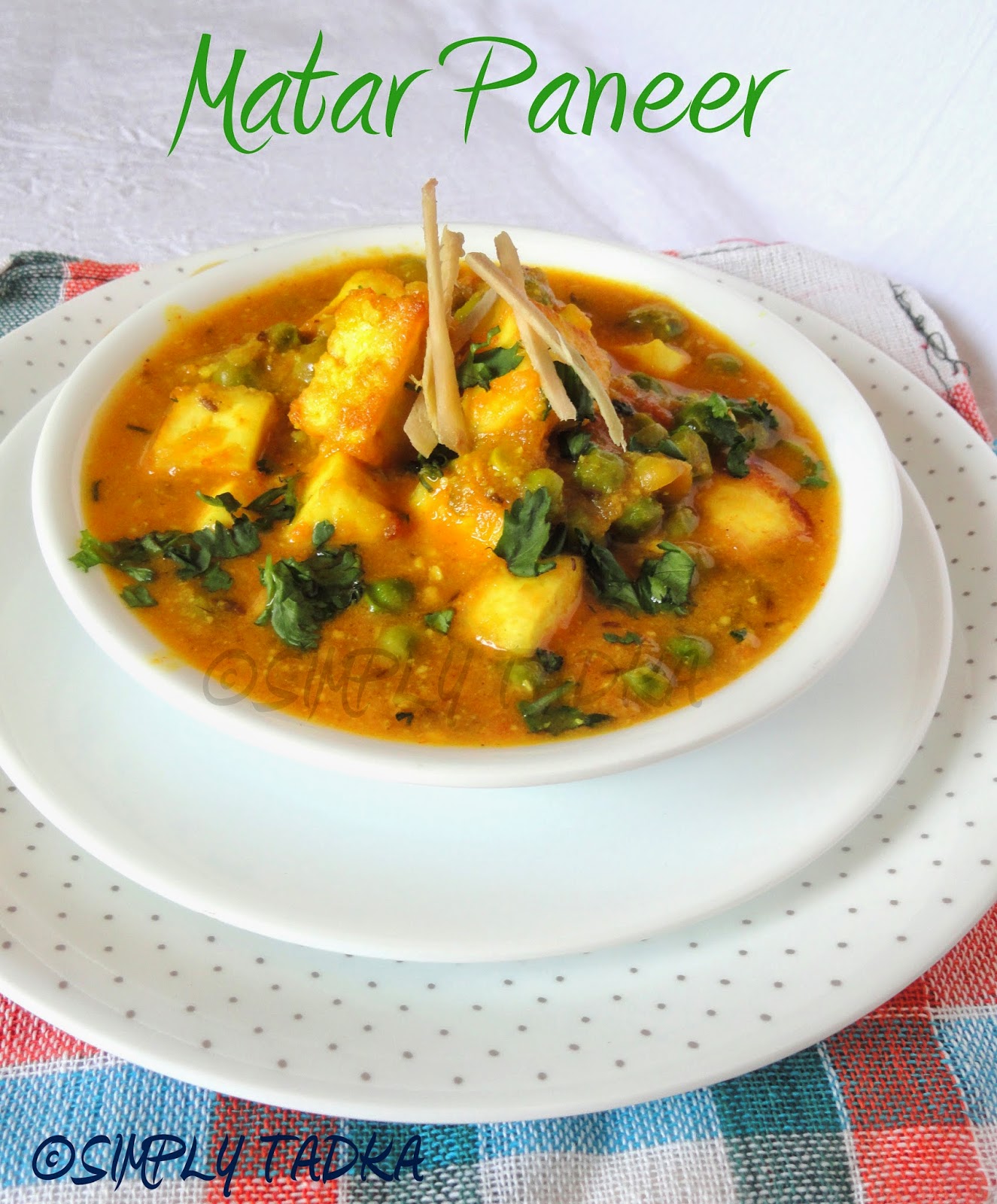 Last Updated on
Matar Paneer curry is a very popular vegetarian
north Indian recipe which made with cottage cheese and green peas combined in
creamy gravy. Mostly served with rice or Indian bread like paratha, naan, roti
more.
Preparation
Time: 20 Minutes
Cooking
Time: 15 Minutes
Servings:
4
Category:
Veg Curry
Ingredients:
250gm Paneer/ Cottage Cheese, Diced
1 Cup Matar/ Green Peas, boiled
2 Onion, Chopped
4 Tomatoes Puree
2 Green Chili, Chopped
1 Tsp. Ginger
7-8 Cashews, Soaked in water
2 Tsp. Tomato Ketchup
1 Tsp. Cumin Powder
1 Tsp. Turmeric Powder
1 Tbsp. Coriander Powder
1 Tsp. Red Chili Powder
1/2 Tsp. Garam masala or Five Spices Mix
Salt to taste
1 Tbsp. Vegetable Oil
Enough Oil for deep frying
Green Coriander, chopped for garnishing
Instructions:
Heat the sufficient oil in wok to frying
paneer cubes till to little golden.
Blanch the green peas until to tender and
soft.
Grind the onion, green chili, ginger and
soaked cashewnuts together until to smooth paste.
Heat the oil in non-stick pan and add
cumin seeds.
When they starts splutter, add onion
paste and sauté until to golden brown.
Add tomato puree and tomato ketchup, Mix
it.
Add coriander powder, turmeric, red
chilli, garam masala and salt, mix it.
Add 1 Cup water and green peas, cook for
next five minutes more.
Add fried paneer cubes and cook for again
2 minutes more.
Garnish with ginger juliennes and chopped
green coriander.
Serve hot matar paneer with parathas or
Indian flatbread.
Tags: how to prepare matar paneer, matar paneer, paneer recipes,
matar recipes, lunch or dinner meals, main course recipes, vegetable curries,
cottage cheese recipes, matar paneer recipes, easy vegetarian recipes.
Enter your email address:
Delivered by FeedBurner