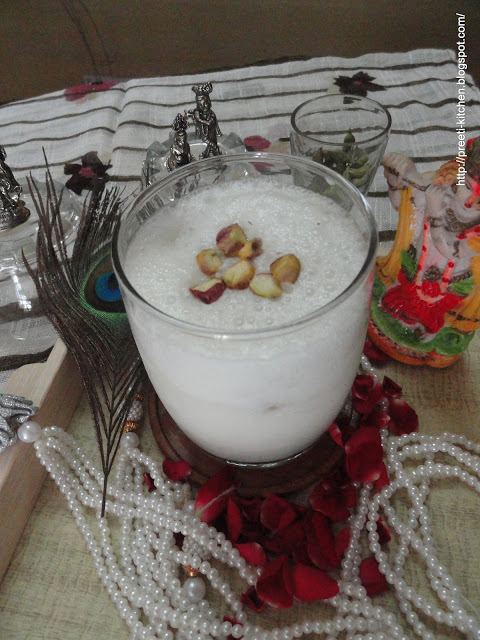 Last Updated on
Lassi
is one the major drink of Mathura or specially Haryana, Punjab and U.P area.
Mathura is a religious city from the ancient time period. Lassi can be prepared
in different ways like you can prepare salty or sweet or add any flavor you
like. Meethi lassi is a sweet and chilled liquid recipe. It is prepared from
the large quantity of curd and sugar. Dry fruits can also be added for the best
taste. Generally it is taken in the summer seasons to beat the sunny heat. For good
fragrance can add kewra, cardamom or rose essence.
Today
I post very simple and authentic recipe of lassi which easily made by us at
home.
Ingredients
1 1/2 cup curd
1/2 cup sugar
(according to taste)
1/4 cup water
Few drops of rose
syrup or rose essence
Ice cubes
For garnishing
Ice cubes
Chopped pistachio
Method
In a blender add
sugar, curd and water, rose syrup or rose essence and ice cubes. Blend it
well.
Now pour it in glass
and garnish with few ice cubes and chopped pistachios. Serve chilled.
Submit this lassi recipe with following events: