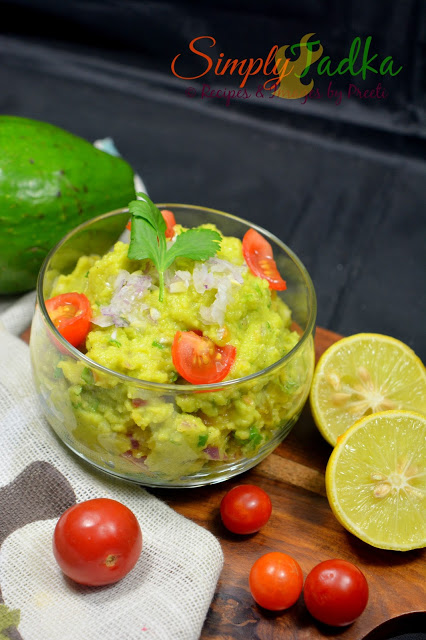 Last Updated on
Guacamole
originated in Mexico but now popular all over the world not as a spread or dips
only but also as a topping and spread in sandwiches and salad.
Guacamole
is avocado based dip which traditionally made by mashing ripe avacados and rock
salt and adding flavor of raw tomatoes, onions, lemon juice, fresh coriander
also known as cilantro and fresh jalapenos. But sometimes people add sour cream
also for creamy texture, it's optional.
As the
major ingredient of guacamole is raw avocado, the nutritional value of the dish
derives from avocado vitamins, minerals and fats, providing dietary
fiber, several B vitamins, vitamin
K, vitamin
E and potassium.
Mexican Guacamole |
Homemade Mexican Avocado Dip
Preparation Time: 10 Minutes
Cooking Time: 0
Servings: 2 Cups
Category: Sauces and Spreads
Cuisine: Mexican
Cooking Method: Grinding
Ingredients:
2
Avocados, Ripe
1/4 Cup
Red Onion, Finely Chopped
1/4 Cup
Cherry Tomato, Chopped
2 Tbsp.
Jalapeno, Canned
Fresh
Coriander, Chopped (Handful)
1 Lemon
Juice
1 Tbsp.
Extra Virgin Olive Oil
Salt to
taste
Black
Pepper to Taste
Instructions:
Deseeded
the avocados and scoop the flesh in bowl and mix it until fine and well
combined like paste. For better consistency you can use blender also.
Add all
the remaining ingredients and mix well.
Keep in
freeze for atleast 1hour before serving.
Serve
chilled avocado dip with nacho chips or fries.
Notes: Adjust the seasoning
according to taste. You can use normal green chilies and tomatoes instead of
jalapenos and cherry tomatoes.
Tags: how to make guacamole at
home, homemade guacamole, Mexican avocado dip, homemade sauces, homemade
spreads, spreads , sauces, avocado recipes, Mexican cuisine, blogging marathon,
simply tadka recipes, guacamole recipes, easy sauces.
Check out the Blogging Marathon page for the other Blogging Marathoners doing this BM#74